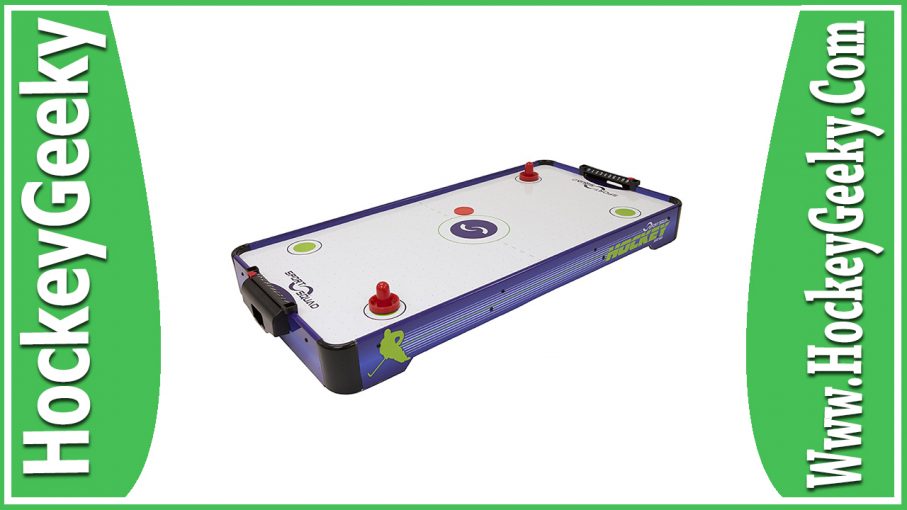 Sport Squad HX40 Electric Powered Air Hockey Table Reviews
Sometimes the budget can't allow for bigger air hockey tables. For others, the problem is that their apartment is just too cramped.
And some may want something that they can bring along on extended vacations. All these needs are accommodated by the Sport Squad HX40.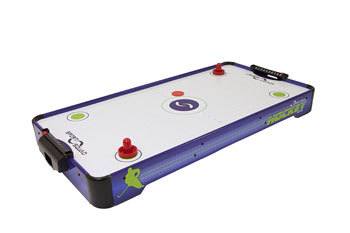 It's extremely affordable:
Standard air hockey tables can cost up to a grand. Most of the smaller air hockey tables still go for 3-digit prices. But not HX40. Heck, its price doesn't even reach the halfway point to 3 digits. So at this price range, it's a toy for kids.
It's a tabletop model
Part of the reason for its affordability is that it doesn't have legs. So you can just put this on any table and you can start playing. You can pick which table to get so you can determine the height of the setup. In fact, kids can just lay this unit on the floor and play.
 Rubber pads on the feet
Maybe you're worried that the feet of the tabletop unit will somehow mar the surface of that nice table you have. Set those worries aside.
That's because the feet on this model are covered with rubber pads that don't leave a mark on your nice expensive table. You won't have to worry about scratches on your furniture or on your hardwood floor.
It measures 40 by 20 by 5 inches
For a tabletop model for kids, it's ideal. It's just big enough for smaller kids to reach every spot on their side of the playing surface. What's more, this compact size makes it very portable indeed.
It's just easy to bring along when you're going to the grandparents or when your kid is visiting a friend. Even the weight is good for traveling, as it only weighs a little more than 10 pounds.
It's built with wood
Just because it's small and affordable doesn't mean it was made from cheap plastic. The material is actually very durable. Also, it still comes with an air blower that you can plug in. It's still an "air" hockey table.
>>> Click Here To See Specifications, Customer Reviews & Rating <<<
Pros
• It's very easy to setup and it will take you about 15 minutes or less. • It's very portable. • The build is high quality. • The air blower can really make the puck move. • The manual scorer tracks the score. • It's very affordable.
Cons
• The size makes it perfect for kids but not for teens and adults. • There's no power switch for the air blower. • The weight may be too much for very young kids to carry around.
FAQs
Q.What happens after a goal? A.The player who scores manually slides the marker to the next higher number. Then the other player just reaches in the goal box and resumes play. Q. How many pucks and strikers? You have 2 of each. The puck is a little less than 2 inches in diameter. Q. Do you have to use the adapter? A.Yes, and there are no options to use batteries. That's because the air blower is very powerful, so you'll end up using up too many batteries.
>>> See More Questions and Answers <<<
Final Verdict
For many families with very young kids, this model is the ideal startup air hockey unit. The size is just right for little kids, and you can pick the height of the table to use.
It's still well made, and kids can get used to the fast pace of the puck. And the price is very attractive, and so you don't lose much on the off chance the kids don't take to it.
But that's very unlikely. When kids see this, they just want it play with it nonstop. And it's durable enough to allow for such nonstop action.
[su_button url="https://www.amazon.com/Sport-Squad-Electric-Powered-Hockey/dp/B007TDGY9C?tag=hockeygeeky03-20″ target="blank" background="#d8101d" size="6″ center="yes" radius="5″ icon="icon: hand-o-right" icon_color="#fff" text_shadow="0px 0px 0px " rel="nofollow" class="productPriceBtn"] Buy on Amazon, Now![/su_button]