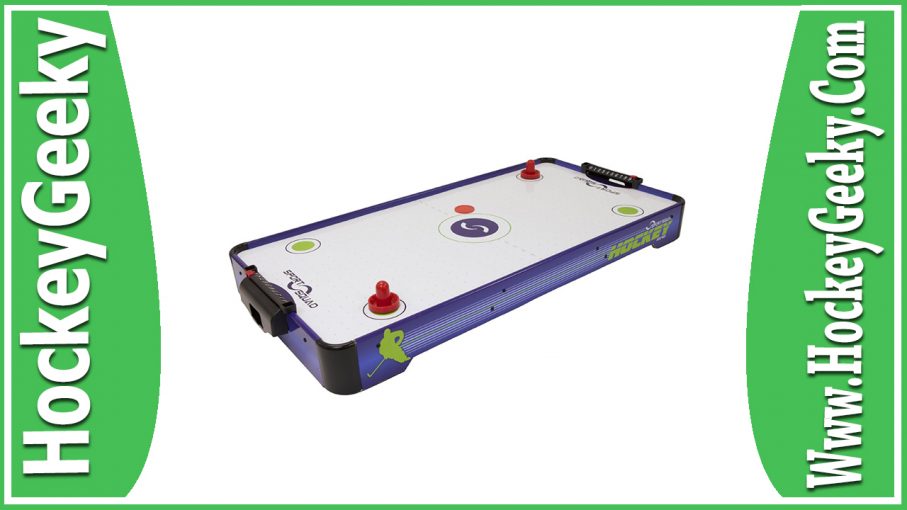 Sport Squad HX40 Electric Powered Air Hockey Table Review
Are you an air hockey enthusiast? If so, I'm sure you know you will need a table to play. Air hockey is a good way to spend your free time especially if you have kids. This is because you don't have to compete for TV or PC with them. You could even organize for a friendly air hockey tournament in which the whole household plays.
Sport Squad HX40 Electric Powered Air Hockey Table is one of the several air hockey tables that you could buy. In this article, we review this table and tell you it features, pros and cons and some frequently asked questions. Continue reading to learn all these and more.
Features of the Sport Squad HX40 Electric Powered Air Hockey Table
The following are the features that you should know:
Perfect Air Flow
For you to enjoy a fair and good game every time you play air hockey, you need to ensure that the table you buy has enough air flow to the surface. This air hockey table offers more than enough air flow.
The Sport Squad HX40 Air Hockey Table provides more air flow than what you have ever imagined. It fluidly glides the pucks across the table and makes for a smooth game every time you are playing. You will definitely get a fair game every time you are playing.
High-output fan provides smooth surface for fast action
Another highlight feature of this air hockey table is the smooth style surface that it sports. The table features an ultra-smooth, ultra-slick and a very even playing surface that enables its even flow.
It comes with high-speed PVC playing field that guarantees you of continuous play that will never wear down. It's top also reminds you of the old air hockey tables, giving you the retro feel while at the same time assuring you of that attractive and sleek look.
Arcade Style Features
Another thing you will like about this air hockey table is the style. It has the arcade-era feel to it, and you may be forgiven to think that it belongs in the old past. You can bring this antique feel right into your home game room and not spend a dime every time you want to play.
The table sports a multi-colored LED light thanks to its Lumen Technology. The table also features fast tempo music that keeps you involved and ensures you are focused so that you don't mess up your turn.
Extreme Durability
The first thing you will note about this air hockey table is that it is quite heavy. Weighing 10.7 pounds, this table is heavier than most air hockey tables and can only be moved from one place to another with the help of two or more people. While the heavy weight may be construed as a disadvantage, it's actually a big plus.
The heavy weight of this table is what makes it stable and sturdy, which means it can hold up quite well to wear and tear. This makes it even more durable.
Wide and Spacious Table
Sport Squad HX40 Electric Powered Air Hockey Table also boasts of being perfectly sized. Measuring 40 by 20 inches, this table is spacious enough but won't take the whole of your game room space.
As mentioned above, it has a strong composition, with 4 large and heavy legs helping even it out automatically to make your game as fair as possible. The table also boasts a good, sharp retro shape which makes it incredibly attractive. The wide nature of the table makes for interesting game times that you will love.
Perfect Game play
If you are the kind of people who like fast-paced games, this air hockey table is designed for you. The PVC-laminated MDF surface provides a smooth and even play field. All these factors help to recreate the nonstop play which is only found in Squad HX40 air hockey tables.
The LED Lumen-X technology also adds to the excellent game play of this air hockey table. Its lights flash along the edge of the table and produce blue, green and red-light effects. This, coupled with high-tempo music, raise your adrenaline level and make the game even more intense.
Sport Squad HX40 Electric Powered Air Hockey Table - Video
Pros
Ultra-smooth surface.
Perfect amount of air.
It delivers excellent gaming experience.
It is of perfect size.
Accessories for gaming are included.
It's very durable thanks to its size.
Cons
This table isn't the cheapest around. However, given its excellent build and arcade style functionality, I would say the price isn't a turn-off. It's worth every penny.
Features at a Glance
Quick and easy assembly.
Two pucks and two pushers provided.
Goal boxes with manual scorers.
Product Specifications
Product Dimensions: 40 x 20 x 5 inches
Weight: 10.7 pounds
Shipping Weight: 15.3 pounds
Model number: SSA1001
Frequently Asked Questions
Q: Is it possible to play without the colored lights?
Q: Can you buy ordinary pucks and pushers that don't have lights?
Q: Can you add ping pong table on top?
Q: Can you carry one piece at a time?
Final Verdict
If you want an air hockey table that can stand wear and tear for the longest time, few can beat the Sport Squad HX40 Electric Powered Air Hockey Table. It is heavy but very durable. It also has an excellent design and game play that make it stand out from the crowd.
While a bit pricey, it has many advantages like durability, wide spacious table, excellent game play, perfect airflow and arcade style features. These features combine to make the Sport Squad HX40 Electric Powered Air Hockey Table a decent table that guarantees ultimate gaming experience.
You May Like These Resource: