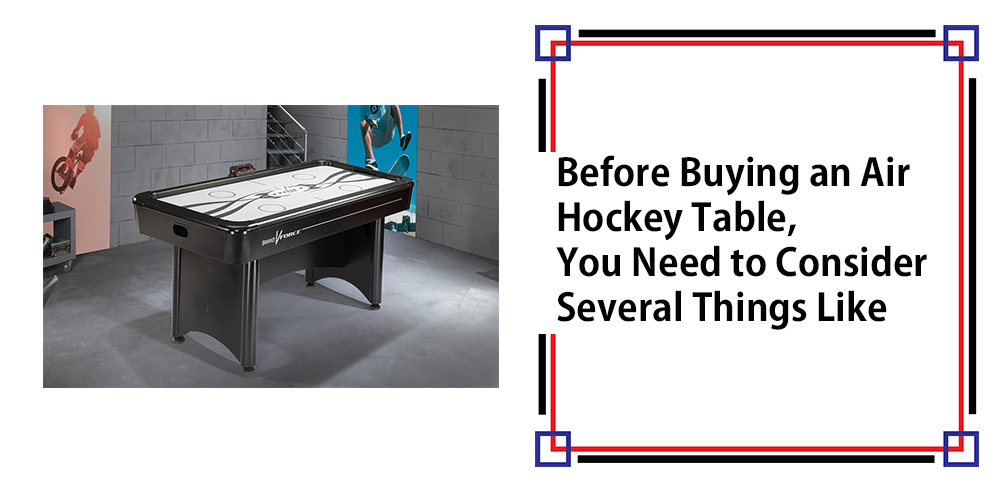 Air Hockey Table Buying Guide, You Need to Consider Several Things Like
Air Hockey is an extremely fun filled and action-packed game. Air hockey originated during the 1970's, but it has grown in popularity in the past few years and is a huge hit among kids and teenagers. It is quite easy to play. You don't need any specialized skills as such.
The table on which it is played is known as an air hockey table. Two players can play this game at once. Each person stands behind the goals in the two opposite sides of the table. The goal is to score as much as possible and prevent your opponent from scoring.
Air Hockey Table Buying Guide
Kick Off:
​Just like most games, first there is a toss between the two players. The winner has two options. He can either choose to start the game or he can also decide which side of the board he will stand.
Rules:
As mentioned before, there is no such complex rules as such. All you have to do is land the puck in your opponent's goal.
Reflexes are most important in this game. You need to be extremely quick and always keep an eye on the puck.
You will get 1 point for each goal scored. Whoever first reaches 7 points will win the game.
You can't touch the puck at any point during the game. If it touches your hand, then it will be considered as a foul and your opponent will get the possession.
You can hit the puck only when it is on your side of the table. If you strike the puck when it is on your opponent's half, it will be considered as a foul.
If you strike the puck so hard that it goes outside the table, then also it will be considered as a foul and your opponent will get the possession.
Air Hockey Tables:
There are different kinds of air hockey tables. You need to select one as per your requirements.
1. Arcade Air Hockey Table:
These are the most expensive ones and they come with a plethora of features like electronic scoring board and various kinds of sound effects to make your gaming experience even better. They are also very durable and will last for a very long period of time. However, professional players don't use arcade tables. They are mainly found in clubs and gaming arenas.
2. Wooden Air Hockey Table
They look quite classy but the main problem is that they are a bit expensive. They are quite durable but it will cost you around 2000 Dollars. Hence, if you are looking for an affordable option, this one is not for you.
3. Foldable Air Hockey Table
If you travel a lot and you want to carry your air hockey table along with you, then this will be the best option. They are not very stable and the gaming experience won't be as smooth as a fixed table. But for a casual and friendly game, these tables are a good choice.
4. Child Air Hockey Table
These are around 4 feet in size and is ideal for kids below 12. They also come with light pucks, so that they don't have any difficulty in striking the puck.
5. Professional Air Hockey Table
These are used for professional games and they have a flat surface so that the puck can move smoothly and quickly. They will cost around 1000 Dollars and are quite durable.
No matter what kind of table you buy, you should clean it at least once every week. If you leave it unattended or if you don't play for a long period of time, then it will get rough.
Cost
Air Hockey table comes in all kinds of price ranges. You will find many tables costing just 200 Dollars. And some of the high-end tables can cost as much as 5000 Dollars. Before buying a table, you should first figure out the features which you are looking for. After that, select one which lies within your price range.
More...
Before buying an Air Hockey Table, you need to consider several things like:
1. Battery or Electrical
If you travel a lot or you live in a place with no electricity, then battery operated tables will be your only option. All the portables tables are battery operated. But if you live in an area without any electricity issues, then electrical tables will definitely be the best option. They use strong fans to make sure that the puck moves smoothly.
2. Size
The size of a professional Air Hockey Table is 8 feet. Hence, you should be looking to buy a table which lies between 7 feet and 10 feet. And in case you are buying for your kids or you have a shortage of space in your house, then a table of around 4 or 5 feet will be good enough.
3. Size of the puck
The puck size should depend on who is playing the game. Kids don't usually hit the puck very hard. Hence for them, light weight pucks will be best. But in case of adults, a heavy puck should be used for better gameplay. You should also clean the puck frequently so that it stays smooth and lasts longer.
Air Hockey Table Buying Guide - Video
Who plays Air Hockey
From kids to adults, everyone loves a game of Air Hockey. People generally play it casually. This is why you will an Air Hockey Table in all clubs or hotels. However, many people also play it professionally. In the United States, there is an Air Hockey organization called USA, which conducts tournaments for all the professional players.
How to be a better Air Hockey player
Air Hockey is basically a game of reflexes. So, the more you practice, the better your reflexes will be. If you want to become pro, then you should at least play for 30 minutes regularly with your friend.
While playing an opponent, you should always try to guess what his or her next move will be. Once you are able to figure out the playing style of your opponent, it will become much easier for you to win. And in case you want to become a pro, then make to practice only on a professional Air Hockey Table.