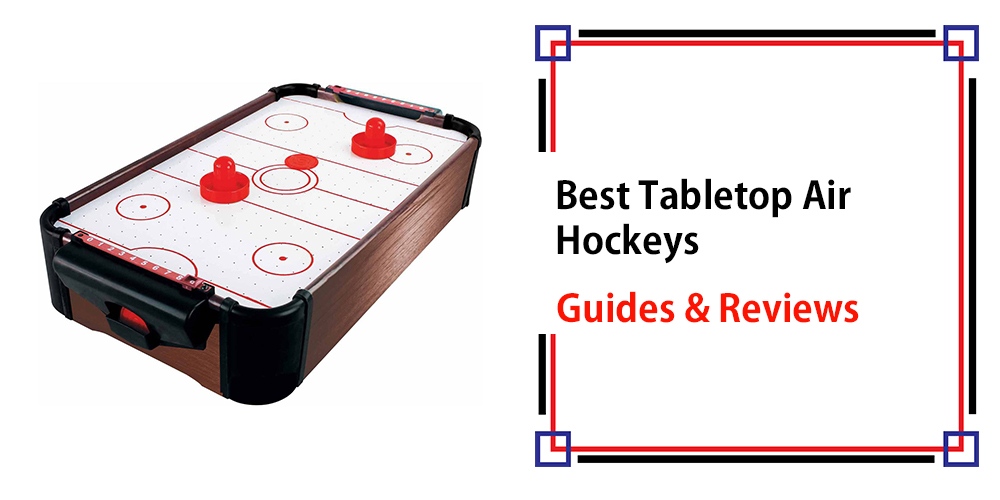 Top 9 Best Tabletop Air Hockeys in 2022– Guide and Reviews
Looking for best tabletop air hockeys? Go into a pub or an arcade, and if you're lucky you're going to find a full-sized air hockey table just waiting for you and your friends to enjoy it. A standard model can get up to 8 feet long, and they do take up a lot of space.
Instead, you need to put them on a table, or else you can play it on the floor. A model of this type offers several advantages:
It's smaller, and therefore it can suit smaller homes.
It can be portable too, and you can bring it along to other houses or to the park.
Many small kids find it easy to play with.
You can adjust its height by picking the right table to put it on.
Since it doesn't use as much material, it's usually much less expensive.
But which model is the best tabletop special air hockey for you? To assist in your search, here are the reviews for 5 likely candidates:
Top 9 Best Tabletop Air Hockeys - Comparisons
Top 9 Best Table top Air Hockey 2022 - Reviews
So which is the best tabletop air hockey for you? This depends on your budget, although of course that's hardly the only factor you should consider. Here are some excellent options that may suit your needs.
1.

Playcraft Sport 40-Inch Table Top Air Hockey
This Playcraft model exemplifies the many traits of top tabletop air hockey models. It's inexpensive; even though it's one of the priciest on this list, it doesn't even crack the $60 mark.
That's a far cry from the 4-digit prices you find in the best standard-sized models.
It's powered by a UL-approved 100 CFM air motor and that's enough to help speed up the gameplay for the 40 by 20-inch playing surface. You've got 2 paddles and even 2 pucks, just in case you lose the first one.
It's quite durable, and that's a surprise for people who are expecting cheap quality to match the low price. The MDF hardwood used to make the frame is quite sturdy, and the parts hold up well to extended play.
The ABS catcher allows you to get the puck back easily enough. There's also a manual scoring slide on top of the goals, so everyone can keep track of who's winning.
This best table top air hockey model is a big hit with very young kids, and even 3-year olds can have lots of fun with it with friends, siblings, and with daddy. Heck, sometimes even mommy and grandma plays with it too.
In fact, teens and adults can get enamored with this very easily despite its small size.This best tabletop air hockey table-Playcraft is affordable, portable, suitable for small homes, durable, and very enjoyable. What more do you want?
2.

Sport Squad HX40 Electric Air Hockey
Now at this price range, the HX40 is obviously made with little kids in mind.
But this is air hockey, and "made for kids" doesn't really mean a lot for lots of parents, does it? The kids can play, and then when they're asleep the adults can have their fun.
This measures 40 by 20 inches, and it's just 5 inches thick. It's a proper tabletop unit, so you need to find the table with the right height to play it.
You can play it on the floor too, and for kids that's fun in its own way.This is powered by an adapter, and just like any air hockey table the air blower provides the air for proper puck movement.
This blower is quite good, and it provides the even airflow which results in very smooth gameplay. It's also nice that the goals are a bit big, so that even when a player is focused solely on defense the goals still keep on coming.
To keep score and keep the kids from arguing about who's winning, there's a manual scorer. The goal boxes also return the puck easily enough.
It's great for parents because the setup is very easy. In fact, you just need to attach the goals with the screws that are part of the package of the best tabletop air hockey or best tabletop air hockey game indeed.
That takes about 10 minutes or so. The size makes it easy to transport and store away, and the high quality wood used for the construction makes it last for a long while.
3.

Rally and Roar Tabletop Air Hockey Table
We all love to have some fun together with family and friends. Consequently, games are the best way to bond with your loved one.
While you are at it, why not get a tabletop air hockey for a lovely game of air hockey. Rally and roar tabletop air hockey table is a full-size air hockey table for children and adults.
It's compatible with beginners and pro players. Most of all, you can guarantee a moment of fun and laughter. First of all, Rally and roar air hockey tabletop is one of the modern types of tables with a funky and sleek design.
The tabletop is white laminated with orange graphics to highlight the score points and boundaries. One look at it assures you of the quality construction added to it.
Additionally, the table has high-quality construction. It includes a frame with dense fiberwood that ensures solid positioning while playing and optimal dual air circulation. Also, the legs have foam pads to improve the table's stability and avoid scratches on the floorboard and legs.
These altogether result in a sturdy and durable air hockey table. Furthermore, the tabletop has effortless assembly. You can only take about fifteen minutes for a complete tabletop set.
Therefore, it's best for pub crawls, parties, tailgates, and family game nights for friendly competitions. It also comes with two mini pucks, two scoreboard options, and two mini pushers.
The scorers are especially relevant to the modern look of rally and roar air hockey tabletop. The scorers are of two types. Firstly, the LED scorer uses an electronic scoring mechanism that features a conspicuous display.
Secondly, the in-built slide scoring is for a more laid-back game moment. Other additional features are the AC-A22V motor for maximum air circulation and increased fluidity of the mini pucks. All you need to keep it running is plugging the table hockey unit with blowers.
The complete air hockey unit is of compact size for easy movement. Finally, roar and rally air hockey tabletop is of US make with a rich experience in gaming equipment manufacturing and design.
Their customer service is in the US, where you can reach out whenever you need their help. They guarantee a prompt replacement or refund in case of occasional shipping damage or defects.
4.

Mini Table Top Air Hockey
This is another nice mini tabletop air hockey unit, and the price is extremely affordable. It's like paying for two coffees from your favorite gourmet café. This is very lightweight for portability, and compact too.
It measures 22 inches long and 12 inches wide, and just 4 inches thick. Kids can bring it to school, to the park, and to the beach. It doesn't need a power outlet, as it uses 6 AA batteries.
Just because it's a mini doesn't mean that everything's too small. The pucks measure 1.5 inches in diameter, so you can see it easily enough.
And the paddles measure 2 inches so it's wide enough with play with and easy enough to handle.The scorekeeping system is also simple enough for everyone, as you just slide the marker to the right score. It also offers easy puck return so the game flows constantly.
With the air motor blowing air over the surface, it offers enjoyable action that even teenagers (and adults) will like.
Since this air hockey table top is very cheap, the adults should just let kids play with it. If the bigger kids want to play air hockey, you can get them a more durable and bigger version of the best tabletop air hockeys.
This one best tabletop air hockey game is strictly for the tots, and that should let it last for a very long while. When they get older and they want more air hockey (and they will), you can get them a bigger and more durable version.
5.

Hathaway Power Play Table Top Air Hockey
Now we're back to the 40-inch versions, which admittedly is much better for both kids and even teens.
It's a bit more costly, but then again the quality is outstanding. This is very durable and it can be played by kids and adults alike.
It measures 45.5 by 20 inches, and its 7-inch thickness means that it's still easy enough to bring along on family trips to the park or to the beach.
It uses very sturdy wood, so all that bouncing around by the puck shouldn't worry you. This wood is very safe, since it is CARB wood.
This means that the ultra-strict California Air Resources Board has deemed it non-carcinogenic.The board weighs 14 pounds, so again it's portable. At the same time, you can set it on the table and it should stay in place.
You won't have to hold on to it to secure it in one spot. It also comes with legs and non-marking pads so you don't have to worry about your beautiful table surface.
You'll have to assemble it, but that's easy. It shouldn't take you more than 15 minutes. And it's an extremely effective babysitter, as young kids will happily spend entire mornings and afternoons playing it with their friends.
At its size that is this table top air hockey games, they can also play with parents and grandparents. It doesn't even make a lot of noise.Moreover, this tabletop air hockey reviews help to choose the perfect one instantly. Moreover, this portable air hockey table top or floor air hockey or table top air hockey reviews help to pick the perfect one soon.
6.

Best Choice Products 40in Portable Tabletop Air Hockey Arcade Table
First of all, this tabletop air hockey game is an arcade-style table. The Best choice team has designed it to bring the joy of a delightful game between family and friends.
The frame is of firm fiber wood that promotes consistent air circulation and durable material service.
Another thing is that it has a lightweight design. Therefore, it is easy to load up into a car when traveling or transferring it. It measures 40inches (length) by 20inches (width) by 8.5inches (height).
You can fold or unfold the legs while using it, however, it is advisable to stretch the legs out to keep the motor fan running.
Additionally, the motor fan is 100V high-performing machine. It ensures the optimal flow of air while playing air hockey. The mini air hockey table fan is noiseless, ensuring minimal distractions while playing.
Be sure that your air hockey pucks will flow in frictionless air conditions. This perfect air hockey table has an abacus scorer that helps you keep track of your score throughout the game.
The numbers run from zero to nine, where you slide the marker to indicate your current score. It also includes town pucks and two strikers, so you do not need to buy them separately.
Moreover, the air hockey tabletop has a new age, graceful design. The white-laminated top is easy for the air hockey pucks to slide without friction. Also, the tabletop has blue markings for the borders and barely chips off. You can bet that the air hockey set will stay in good shape for a long time.
Best Choice products are trendy, innovative, and high-quality items. The Best Choice team spends a prolonged duration of time designing and qualifying their products. They have to go through testing and qualification for them to be on the shelf.
Aside from air hockey table tops, they make educational toys, imaginative play-pretend sets, and a trendy ride-on. You can check out other products for home use, gardening, outdoor, and toys.
7.

Mini Arcade Air Hockey Table- A Toy for Girls and Boys by Hey! Play! Fun Table
It may not be easy to cultivate hockey skills in your child, especially through their pre-school stages.
The best solution is to buy a miniature representation of the hockey-playing field as a starting point. This mini arcade air hockey table has features like an actual hockey rink.
It has goal posts, a center position, borders, red markings, mini bucks, and paddles. By the time your child gets on the rink, they will master either ice or ground hockey quite well because of experiencing the fun of air hockey.
One of the features is that it is portable, therefore it is an excellent choice for children to play indoors or outdoors.
The compact size and weight are manageable for your kids to carry around. You do not have to worry about them falling or dropping the air hockey table since it is airy. All thanks to the fine materials and construction.
Additionally, it has an easy-puck return mechanism that allows the puck to flow effortlessly. You do not need to pause to reposition the puck on the tabletop because it glides easily while returning to the player.
Another feature that ensures easy puck return is the motor fan that uses battery power. The power is ideal for the size of the small size air hockey table.
Furthermore, the tabletop has a glossy finish with dotted flat surfaces. Therefore, it offers a present-day and captivating look for the kids to want to play air hockey. The red markings on the tabletop define the starting point and goal posts clearly.
Also, the markings are non-fade to ensure long-term use. There is a sliding scorekeeper to mark the score of the fair game. Finally, the wooden and plastic make of the air hockey table completes its look for the most active types of air hockey games.
You only need a screwdriver to assemble the parts. The package includes the air hockey table, two pucks, and two paddles. Hey, Play is a dedicated company for making toys and games for kids.
They assure quality and contemporary products through their thorough manufacturing process. Even in the design stage, the products are evaluated against the customer requirements to guarantee top-notch results.
I am sure you will love their tabletop air hockey table. You can get it for your grandkids, kids, nephew, or nieces.
8.

Mainstreet Classics 22-Inch Table Top Air Hockey Game
The Main Street classics is a just-for-fun tabletop air hockey with as fine features as a hockey playground. Although it is a bit small for adults, kids can enjoy playing air hockey with it.
This air hockey table is majorly about having a good time while playing. The quality is impeccable, the material timeless, and the construction superb.
First of all, the air hockey game table is of wooden and plastic construction. To be exact, the frames are wooden to give the entire air table both a solid feel and a long-lasting appearance.
On the other hand, the tabletop is plastic with a sleek white lamination. It ensures that the bucks and mallets can slide easily. A smooth tabletop is not only useful for the game activity but also a seamless long-term look.
Moreover, the air hockey table includes basic table tools for a complete game. There are sliding scorers on either side of the table to mark the number of wins in a game. Also, the pucks have an effortless return system that ensures that the puck glides back and forth without friction.
Ultimately, it contributes to a proactive table hockey games game experience.
Additionally, the air hockey table measures 22x12x4 inches with a weight of 4.85lbs. Therefore, it is small and light enough for your kids to move around without help.
They can even carry it to a family gathering or outdoor activities to enrich the quality of their air hockey game experience. I would say the Main Street classics have similar features to other standard air hockey tables for kids.
This cheap air hockey table also has a motor fan that regulates the airflow in the entire hockey unit. It adds to the smooth flow of the pucks. Finally, it requires eight double batteries for powering the fan.
9.

Air Hockey Table for Kids and Adults, Compact-Size, Completed Air Hockey Table Top
Air Hockey Table for Kids and Adults, Compact-Size, Completed Air Hockey Table
First of all, the air table air hockey set has a solid wood construction.
It is impeccable for use for an extended duration of time without damage. The white laminated surface has non-fade blue markings to indicate the various air hockey game positions.
Additionally, there are adjustable leg levers that can be folded or heightened depending on the players. You can also place it on the floor or table while playing.
The adjustable have foam pads to prevent friction with the floor or table. They are also ideal for maintaining the stability of the air hockey table while throwing the pucks. Moreover, the lightweight table has dimensions of 38x 19x 5inches weighing 18pounds.
Another loveable feature of the table air hockey is the colorful print on the wooden frames. A game is all about color, fun, and hype and this air hockey table is unreserved about delivering just that.
This supreme design is enough to set a fun mood for an air hockey game. This air hockey includes extra features that include two bucks, two strikers, and two scoring systems.
Also, it has a DC-12V motor fan that circulates air for undemanding movement of the buck on the level playing surface. The fan is noiseless and indestructible. Most of all, the air hockey table has an impressive feature of an LED scorekeeper.
I must say that I love that you can make a score that automatically appears on the LED. You may not always want to use the LED display, then you can use the abacus sliding scorer.
Frequently asked questions
Q: How to Choose a Tabletop Air Hockey Table?
You should consider the following features:
Solid construction- should not be easy to break, commonly wooden material.
Modern design- should have a clear depiction of a real-life hockey ground.
Dimensions and weight- buy full-sized tables for both adults and kids and smaller ones for kids only.
Smooth playing surface- the surface should have a lamination for easy buck sliding.
Portability- you should choose a portable model of an air hockey table.
Easy assemble.
Reasonable price- it should not be too expensive, consider it last after other features

Q: What Are the Benefits of a Tabletop Air Hockey Table?
They can train a younger child the basics of playing ground/ice hockey.
•You can have fun games with your loved ones.
•They are portable since they are lightweight.
•They are relatively cheap, especially kids-only tables.

Q: Is air hockey a tabletop game?
Two players play against each other on a smooth tabletop. It has score positions, bucks, strikers, scorekeeper, and center positions.
Q: How to Know Which Tabletop Air Hockey Table Is the Best for Me?
I will use the variation of kids and adults since it is the widest gap for manufacturing air hockey tables. The best tabletop air hockey game table for kids is light- 5lbs, and smaller in size.
On the other hand, the best air hockey table for adults weighs about 17pounds and has wider dimensions; 40-inch tables. Other air hockey table properties such as construction, portability, assembly, and motor fan are almost similar. You can find your best one in the above tabletop air hockey reviews.
Q: Why you will Love a Tabletop Air Hockey Table Model?
A tabletop air hockey model is not only easy to use but also easy to carry. It provides the most convenient way to play hockey from home, mostly beginner level. You can have quick games as a way to bond with your family and friends. Generally, it offers fun, convenience, and timeless use.



Final Verdict
There really no denying the appeal of the best tabletop air hockey game or table top air hockey table. It's very engrossing, and it offers a nice change to all the video games that kids play these days. There's something to be said with games you play across another person. It is also portable air hockey tables or tabletop hockey no doubt.
And with the best tabletop air hockeys model or table top sport, it means that small kids can really join in the fun. They can play with their friends or bond with the adults with this table top hockey games.
The sizes of these models ensure that you can bring along anywhere, and so tabletop hockey game great for trips and vacations. When you see your kids spending hours with this with their friends and family, you will immediately recognize what a great game it is.