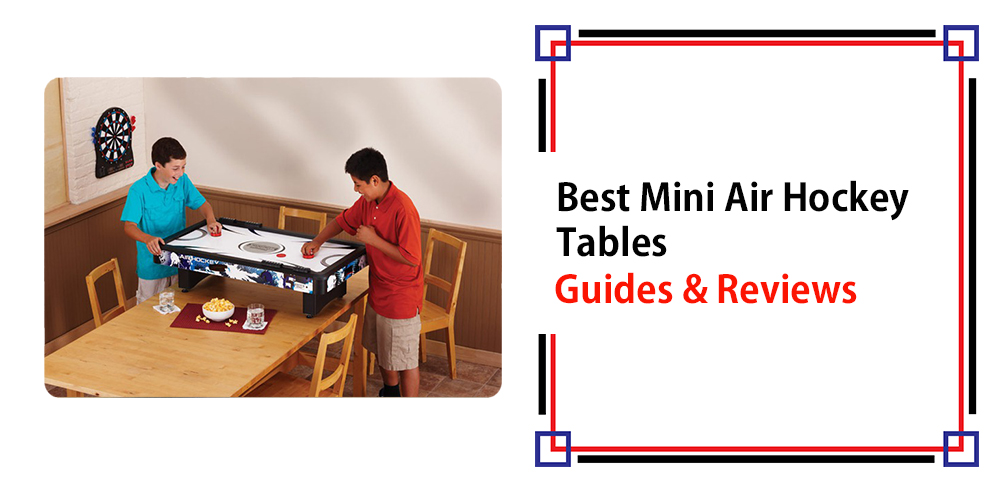 Top 10 Best Mini Air Hockey Tables in 2022 – Guide and Reviews
Best mini air hockey tables, Looking for best one? Who needs a standard-sized table? Air hockey is so enjoyable that the best mini air hockey table offers huge loads of fun. Here are your 5 best options. There's no argument that standard competition size air hockey models are a lot of fun.
But for many people, they're just not all that practical. They're expensive, they take up too much space, and younger kids can't play them. But the best mini air hockey table doesn't have these problems, and they're still a lot of fun for everyone.
That's especially true for smaller children looking on in envy upon the bigger kids. Another advantage of mini air hockey tables is that they're portable.
You can literally bring them everywhere without any difficulty since they're so small and light weight. Finally, when you you're done playing them at home you can just simply put them away under the coffee table or in a cabinet.
So which one mini air hocky or mini hockey tables should you get? Here are 5 popular options for those looking for a miniature air hockey table.
Best Mini Air Hockey Tables - Comparison
Top 10 Best Mini Air Hockey Table - Reviews
1.

Mini Table Top Air Hockey
As the name says, this is the type of air hockey table you're looking for. This is extremely affordable, so even kids can save up for this.
In fact, while this list is comprised of every affordable models this one comes with the lowest price.
This mini version measures in at a tidy 22 inches long, so taking it with you is like bring along a tablet when you travel. It measures 12 inches wide. You just place it on a table and play.
And you don't need to plug it in either. It's great to bring to the park, since it uses 6 AA batteries.Now mini doesn't mean that you have to forgo having the air on the playing surface.
That air is crucial for gameplay, as it makes the puck glide over the playing surface smoothly. And this air is here as well, as this table is equipped with an actual air motor.
The shooter handles are easy enough to control, while the 1.5-inch puck is at just the right size.
There's a score keeping system to keep the kids from forgetting the score, while the easy puck return allows for continuous game play without too many lengthy interruptions.
2.

Sport Squad HX40 Electric Powered Hockey
Now this is the most expensive of the lot, but that's not really saying much about the price since every model on this list is extremely low-priced.
But the price does go a bit higher because the makers were a bit liberal in defining what "mini" means.
This actually measures 40 inches long and 20 inches wide. Like the rest of the models on this list, this is a tabletop model.
At this type of "mini" size, it's very suitable for even the bigger kids.
Truth to tell, when adults see this they're going to get an itch to play it too. It's still easy to bring along on trips, while it's perfect for small homes and tiny rooms.
It's actually very well-made and the quality of the material leads to exciting game play. The fan for the playing surface is quite strong, so every square inch of the playing field comes with the air needed to help the puck glide during the game.
The high quality wood for the table makes it very durable. The rubber pads on the feet make it safe to place on top of even expensive tables.
The size of the puck is just right compared to the size of the goal, so you can't cheat simply by parking your striker in front of the goal.No doubt this one the best mini air hockey table for you.
And there's no cheating on the score, since the manual scoring system keeps count.This is what you may want to get when you think that the entire family will want to play.
Just let the kids play as often as they want, however. You can always take your turn when your kids are asleep. Or you can play with this air hockey table mini with your kids too. Moreover, it is also little air hockey table.
3.

Best Choice Products 40in Portable Tabletop Air Hockey Arcade Table
Best Choice Products, tabletop air-hockey table with a classic design that every kid will love. Best Choice Products is a big company that produces innovative and high-quality items.
All products must pass quality tests and have an approval stamp before getting to the market. Despite the high quality, the product is available at an affordable price.
Purchasing Best Choice Products 40In tabletop means you will have the best portable air hockey table.
It has a compact design that is ideal for a table or the floor. The quality tables have MDF plastic material.
The table is also lightweight. You can take it anywhere you want to play the game with ease of transportation. The mini-hockey table game has an arcade-style. The style allows you to have much fun and passionate striking like in the arcade.
If you are looking for intense joy while playing hockey games, the Best Choice Products portable tabletop 100V hockey table is the item to purchase.
This air-hockey table has a powerful motor of 100 V. The motor fan allows for smooth and frictionless puck gliding by pushing air through the table surface.
The hockey table has a score tracker that helps you to keep track of hockey scores. This item comes with an instruction manual that will help you to carry out successful assemblage.
There is minimal assembly to carry out. The package includes a power adapter, air hockey table, two pucks, and two strikers. It is perfect for kids aged three years and above.
Highlighted Features
4.

Rally and Roar Tabletop Air Hockey Table
Rally and Roar is a mini-air hockey game-table perfect for fun-party games. It has an electronic scoring system with two mini-pushers and two mini pucks.
Rally and Roar set come with extra features like a CUL-certified AC 12V motor and sturdy foam-padded supports to avoid scratching.
The Rally and Roar standard air hockey tables are 40-inch long, the ideal tables for small kids. To assemble Rally and Roar is easy and fast.
You will only need about 15 minutes for the first assemblage. As you practice, you will be able to assemble in less than 10 minutes.
Attaching the padded legs and the goals is all the work you need to do to use the mini-air hockey table. The Rally and Roar little air hockey table is a classic design and a lightweight tablet with a reasonable price.
The air table has quality construction that makes it last longer. The table contains fiber-wood material with quality and wide legs for support. In addition, the padded legs avoid floor scratching in case of any movement.
The Rally and Roar miniature hockey game tabletop comes with a decent power motor of 12V. It requires a standard plug-socket to run. The scoring system can be manual or electronic. For electronic, you will need to have 2 AA batteries.
The classic air hockey table has decent airflow. The Rally and Roar are some of the best small air hockey tables in the market.
Highlighted Features
5.

Mini Table Top Pool Table with Cues
Now this is the top bestseller—among tabletop pool tables, that is. So what's it doing on this list?
Well, it can be argued that it's sort of like an air hockey table, what with the kind of fun it offers. And it's just the right size for young kids, at just 20 inches long.
Of course, even at this size the quality is still nice. You actually get the full set of 15 billiard balls along with the cue balls measuring an inch in diameter.
The balls actually move quite realistically along the felt and against the edges of the table.When you drop the balls in the pockets, they go straight towards the center compartment. You get all the necessary accessories just like a standard pool table, with 2 cue sticks measure 20.2 inches long.
You even get a triangle for the set and chalk for the sticks. And there's also a nice brush for the felt.This best mini air hockey table.More over, this in not only mini air hockey but also it is best tabletop air hockey.
If you're looking for the best mini air hockey tables, this is a nice addition to your game room. After all, it's extremely affordable, so this mini tabletop pool table won't exactly wreck your budget. It doesn't take up too much space.
And it offers a nice alternative to air hockey so that no one gets tired playing just a single game all the time. It doesn't even need any sort of assembly at all, as you can get it out of the box and start playing.
6.

Mini Tabletop Pool Set- Billiards Game
Are you searching for an air hockey table for the whole family? This indeed could be what you are looking for. It is large enough and multipurpose. It is thus able to accommodate several players at a time.
In all, the table is compressed to take up as little space as possible. It is also portable enough to let you carry it around with ease.
You will find it quite handy to handle and engage.It is manufactured wholly by hardwood. It is thus resistant to termites.
It also wears out gradually by reason of being resistant to rot and other agents of depreciation. It will return to you a higher value for your money.
The table is covered by green felt. This is the same material that covers the regulation-sized billiards tables. You can thus be certain of very high quality and long-lasting materials. This will also imbue you with a feeling of prestige.
On the whole, the table is compact in size. It measures a paltry 20.2 inches long by 12.2 inches wide by 3.5 inches deep. You will fit it in just about every other space available.
In all, the table can accommodate several accessories at a time. These include table brush, triangle rack, two pool cues, pool stick chalk, and pool balls. It can consequently carry out several tasks and purposes as the result of this.
7.

Two Player Desktop 2 in 1 Soccer Mini Table Top
Do you just want to learn the basics of the game of air hockey? If you said yes, then you require this mini tabletop device. It is basically a mechanically operated educational air hockey sports toy game
The table can contain two players at a time. This allows you to sharpen your skills in air hockey through competitive or friendly tournaments. It also simplifies your endeavors by reducing the need to invite many players.
This table has the ability to let you play two games at a time. It allows you to switch from knock hockey game to soccer in a matter second. This is because those game modes are built into the system.
With this table, you can enjoy your favorite game just about anywhere. At home, in the office, and out in the open. This stems mainly from its compact size and the ability to fit any open space available.
Also forming a part of the table is the built-in scorekeeper. This is manually operated. It basically helps you to keep track of your scores. This way, you will also be able to make the necessary adjustments.
Coming in last of its key features are the two trays. It is these trays which the soccer balls drop into whenever a goal is scored. They spare you from having to waste too much time assembling the balls. Moreover, it is also nice mini tabletop air hockey.
8.

Franklin Sports 20In Table Games - Table Top Mini Game Perfect for Family
Franklin Sports 20In is a mini tabletop air hockey that comes with two pushers and air hockey pucks.
The lightweight design allows for easy transportation. Franklin Sports have the best small air hockey table to add to the family game room.
The product has a portable table that is perfect for small spaced rooms. The sliding score bar allows you to keep a truck of fun action easily.
There are mini-pushers for each player to control the light pucks. The machine uses batteries to operate, safe for the children to play and have fun.
The batteries ensure that the blower keeps a constant airflow. According to tabletop air hockey reviews, Franklin's product is not the best for serious hockey games.
The set requires few minutes to assemble. With only 20 minutes, you will be able to set the machine ready to start the game. The product comes with the required wrench and hex tools for easy assemblage.
Franklin is perfect for children's game night. It works great for short kids since it is small. Franklin Sports 20-inch is a fast action hockey set that will allow your kids to play for hours in the family game room.
It is a cheap air hockey table with quality features. It is a perfect gift to offer to your kids. If you are looking for a simple air hockey table for your kids, Franklin Sports 20-inch is the best set for you.
It comes with an instruction manual to help you assemble fast and maintain it for a long.
Highlighted Features
9.

TALLO Table Top Air Hockey Game 24-inch, Electronic Strong air-Powered
Tallo Table Top Air Hockey Game 21-inch is an electronic air-powered table with two pushers and two pucks.
It has a portable design to allow you to carry easily to any place. You can use the Tallo tabletop hockey table for outdoor parties, game room, backyard barbeque, and in-home bar.
The item has a high-powered motor despite its small. The Tallo mini-hockey table game has an AC 12V motor to allow puck fluidity and optimum airflow.
The 100V fan motor is strong enough to push air through for an even puck gliding. You can place the Tallo tabletop on the table or floor. The Tallo's package comes with every item you require to play your hockey game.
The items include two mini-pushers, a scoreboard, and two pucks. You will need to purchase three AA batteries. Assembling the Tallo tabletop is easy and fun. You only require few minutes to start the family-game night competition.
To Company has offered an unlimited lifetime warranty on the product. You will also get the advantage of free shipping once you purchase the item. Engineered wood material makes the product last longer.
The corners of the hockey table have round and smooth ABS protection to allow for a safe game. With Tallo, you will have a realistic hockey gaming experience since it has a decent power fan.
In addition, the tabletop has a beautiful design with different bright colors that are attractive to small kids. The table surface has a PVC cover that prevents it from corrosion, dirt, and sun damage.
Highlighted Features
10.

Best Choice Products 58in Mid-Size Arcade Style Air Hockey Table
Best Choice Products 58In is a full-sized tablet with a leveled playing surface. Best Choice Products has kept its name high for producing high-quality hockey tables at an affordable price.
The table has sturdy construction with adjustable foot caps to allow leveled playing surface. The crossbar legs help to bring stability.
The corners have smooth surfaces for safe playing. There is a score tracker to keeps score track. Included in the package is a puck dispenser that secures all scored pucks.
Best Choice Products 58In hockey table has a strong DC motor of 12V and an adapter.
This feature allows even distribution of air for smooth puck movement. The machine also comes with a digital scoreboard with LED electronic and manual scorekeeping. There is also a puck dispenser securely placed to store your pucks after every score.
Accessories included are air hockey pucks and two pushers. There is also a perfect size-carrying bag to put your items safely. The mini-air hockey table has a sturdy construction. The construction materials are PVC and high-quality composite wood.
It also has adjustable levelers as well as crossbar legs and reinforced corners. This feature prevents any movements that can lead to falling off the table while playing the game. The children-recommended age for the air hockey table mini is eight years and above.
The best choice products mini-air hockey 58-inch has received certification from CPSIA AND ASTM. It is a safe item to offer a fun game to the whole family. It is also a perfect product in case you want to have a friendly competition.
Highlighted Features
Frequently Asked Questions & Answers
Q: What is a 'mini' air hockey table?
A mini-air hockey table is any product whose dimensions are between 20 to 50 inches long. There are several types of mini-air hockey tables. One is the super tiny hockey tables under 30 inches and tabletop mini tables with 40+ inches in length.
Q: How do I choose a mini-air hockey table?
There are features that you should look for in a mini-air hockey table. Get a hockey table with the perfect dimensions depending on the size of the tabletop and your kid's age. Pushers and pucks must be there for a hockey table game. Also, look for a product that has quality construction for durability. A lightweight table plus an exciting design makes it the best air hockey mini-table.
Q: How does an air hockey table work?
The air hockey table has a slick surface. The field edges are raised to prevent pucks from flying off. The table has symmetrical holes across the whole surface to create a smooth and frictionless field. The fan underneath the table blows air through the holes to keep the light pucks floating.
Q: What age is air hockey for?
Air hockey tables come in different sizes. Different hockey sizes fit different ages of kids. The mini-air hockey tables are for use by kids aged five to 12 years. The full-air hockey tables are perfect for adults.
Q: How to clean a mini-air hockey table?
Cleaning a mini-air hockey table requires six steps. Vacuum the table surface and scrub the tabletop using a damp cloth. Use a brush to remove debris as you blow each hole. Polish the table surface using furniture wax. Lastly, use a vacuum to clean the blower motor.
Final Verdict
Sometimes going mini hockey table or small is the best way to go, and for some people the best mini air hockey tables is the most suitable option. It's the best choice for so many types of customers.Moreover, you can also go with unique bubble hockey table with unlimited fun.
It's great- the best air hockey table reviews for those on a very tight budget, it's perfect for those who want something fun and portable, and it's ideal for very small homes.
And for the young kids, the size is just right. Get the best mini air hockey table (and the mini pool table while you're at it) and you can have lots of fun without even without the full-size version.
The above best mini air hockey tables offer many hours of engrossing play and numerous bonding moments, and you sure can't beat the price! Moreover, all above you can treat as like top rated air hockey table, best air hockey table for the money, portable air hockey set, mini air hockey games, mini hockey table game, best small air hockey table, mini air hockey set, best air hockey table brands, just for fun tabletop billiards, best rated air hockey tables and kids mini table indeed.