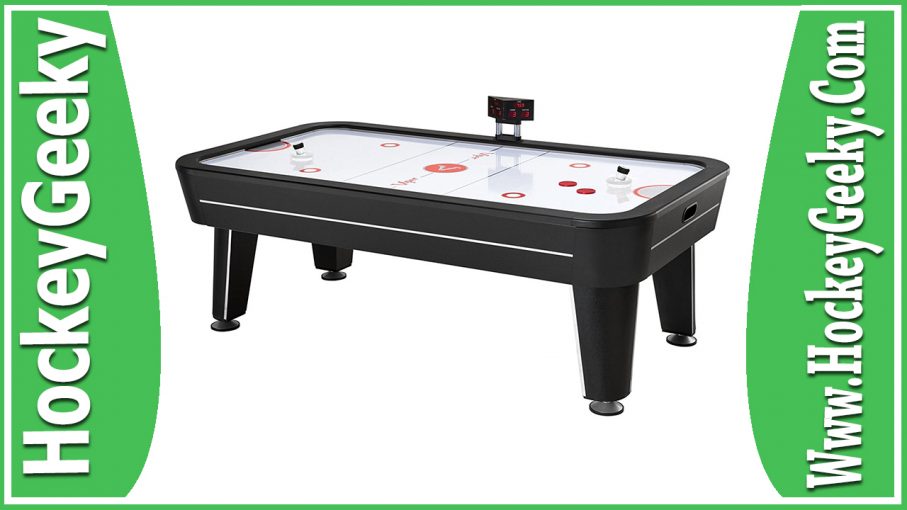 Viper Vancouver 7.5-Foot Air Hockey Game Table Review
Are you looking a nice sturdy hockey game table for yourself, family members and/or friends? Then you need to look no further than Viper Vancouver 7.5-Foot Air Hockey Game Table. Turn your home into a fun and excitement hub as you compete with family members and friends in an arcade with this sturdy hockey table.
There is nothing exciting than giving your family an access to an air hockey table all the time. This model from Escalate Sports is designed for the game enthusiasts who enjoys fun playing with less bulk. It comes at a pocket-friendly price and best suited for home use.
Feature of the Viper Vancouver 7.5-Foot Air Hockey Game Table
The following are the features that you should know:
>>> Click Here to See More Photos Now on Amazon! <<<
Sturdy and stable design
Yes, it's durable so you need not to worry about your table top crushing. Viper Vancouver 7.5-Foot Air Hockey Game Table features a sturdy and stable design which translates to durability. It can hold wear and tear for a long time without crashing down.
Don't fear even when your friends tend to apply a lot of force or lean too much on your Vancouver 7.5-Foot Air Hockey Game Table as it will barely suffer damages from such.
With large and sturdy legs, the table top is very stable and won't wobble to ruin your gaming experience. The sturdy four large legs contribute to a stable playing surface for enhanced performance.
110V motor and PVC-laminated MDF playing surface
It features an aesthetic slick 82" L x 41" W play surface with PVC construction and laminated MDF creating a smooth and even surface for high-speed gameplay.
The 110V motor provides a powerful and steady airflow, which ensures that the puck glides easily from one point to another. A combination of efficient power and smooth surface helps in recreating a non-stop air hockey play in your favorite arcade.
LED lighting and sound effects
Another feature that adds to Viper Vancouver 7.5-Foot elegance is the LED Lumen-X technology. It features LED lights running along the table edge and emits blue, green and red-light effects. The LED lights are paired with fast and high temp music, which raises your adrenaline levels thus making the air hockey more intense and interesting.
The lights are designed to change colors whenever you or opponent scores, giving the scorer an adrenaline rush while pressurizing the opponent to improve on his or her game.
Aesthetics
Turn off the LED lights for full enjoyment of the aesthetics that comes with Viper Vancouver 7.5-Foot Hockey Game Table. By doing so, you make the LED lights to stand out clearly, giving you the experience of playing in an ultra-modern arcade featuring a spacious theme in place of your typical home.
Turning off the lights and playing your air hockey in the dark gives you the best of the LED Lumen-X technology. This is an ideal way of making the LED lights stand out more prominently and allows you to test your air hockey gaming skills as you relies more on your personal reflexes instead of sight.
Pushers and Puck
Swap the LED puck with 2 ordinary round pucks that come with the Viper Vancouver 7.5-Foot Air Hockey Game Table, for a more traditional air hockey game. The fast-moving gameplay is complemented by the LED puck and pushers that change the air hockey experience.
The table gets a red hexagonal LED spinner' puck, blue LED pusher and a blue round puck for traditional gameplay experience.
The hexagonal LED puck offers challenging and unpredictable rebounds for advanced gameplay while the red and blue round pucks provide traditional gameplay.
With hexagonal shape, the puck is harder to hit thus adding more challenge to the air hockey game. The LED puck are ideal when you want to dial down the game excitement.
Viper Vancouver 7.5-Foot Air Hockey Game Table - Video
Features built-in LED light hence can be used in the dark.
Stable design with large and sturdy legs.
Smooth PVC playing surface.
Powerful 110V motor.
Flashing lights and high-tempo music makes the air hockey game more interesting.
Table features a smooth
Some assembly required
Unlimited minute time options
Weight: 340 ounces.
Dimension: 90 x 49 x 31.2 inches.
110V motor.
Slick high-speed PVC playing surface.
LED Lumen-x technology and high-tempo music.
Two LED pusher, two round puck and one hexagonal spinner LED puck.
Frequently Asked Questions
Q: Can I play without all the colored lights and can I replace the LED light pucks with regular pucks?
Q: Can I carry the Air Hockey table in pieces to a basement?
Q: How do I turn off the lights and sound?
Final Verdict
The Viper Vancouver 7.5-Foot Air Hockey Game Table is a must-have for Air Hockey game lovers. If you're looking for a durable and sturdy hockey table that is capable of withstanding constant usage with minimal wear and tear, then this is your thing.
While it looks quite chunky due to big legs and large cabinets, overall it features an ergonomic and sturdy design. Apart from durability, it features an aesthetic design with beautiful LED lighting that makes it stands from the crowd in terms of gameplay and beauty.
It adds to the design of your arcade. You can try it with your family and friends for hours without experiencing boredom.