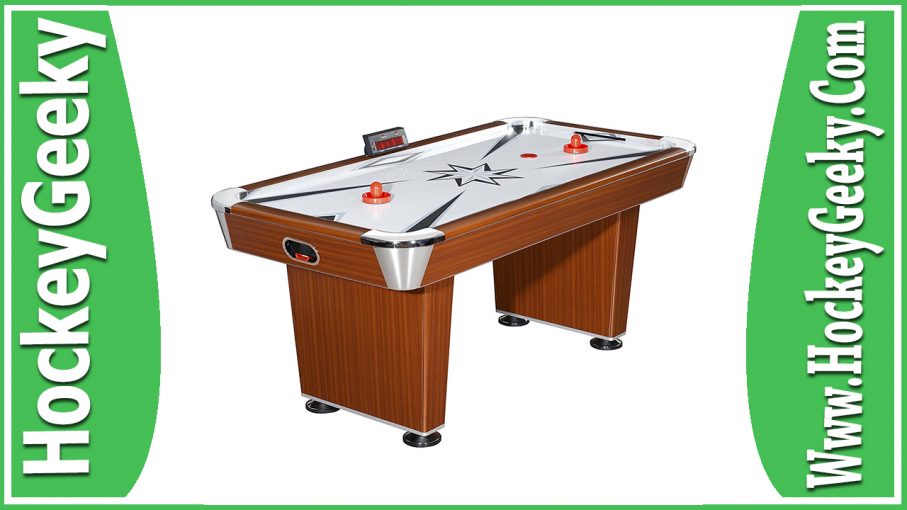 Hathaway Midtown 6-Feet Air Hockey Table Review
It is needless to say that sports play a vital role in our lives, whether they are mind games or physical ones.It gives you strength to fight over odd situations and motivate through anything. Now as technology has gone too far there are never ending options available in this segment as well.
As indoor games are a huge trend now a day we have plenty of options in that too. Best option amongst them is an air hockey game. Yes, we are familiar with this game as we have played it several times in some games zones.
We actually know the feeling how exciting the game itself is that we cannot get bored even if we play all day long. so buying one can really make you the cool person among your peers. There are many hockey tables are available in the market but Hathaway Midtown 6-Feet Air Hockey Table has its own class.
Hathaway Midtown 6-Feet Air Hockey
The following are the features that you should know:
Size does matter
This Air Hockey table is so eye pleasing that you won't able to resist buying. It has a very strong design so that even if you play harshly it won't move and give you the exact feeling of playing.
It has 72 x 36 x 31 inches length with 97 pounds of weight which makes it more sustainable. It is heavier than the other hockey tables in the market which extent its durability. You will get 72" x 36" playing surface which is supported by durable heavy legs of the table.
Standing apart qualities
The classic arcade style air hockey table features are never ending and another exciting feature of this Hathaway Midtown 6-Feet Air Hockey Table is that it has a multi colored red green and blue LED Lumen-X technology lights which gives it a
Light also change colors when one of the players make a score. Isn't it exciting? it includes the high tempo music as well which will keep you going for the better rounds of game.
Endless Fun
If we talk about the surface than let me tell you it has best high-speed PVC playing surface. The slick design of the surface supports faster puck moves. This amazing Air hockey table has a 110V motor for maximum air flow and it is hard to describe in words that how many miracles maximum air flow can do.
It has been built for the fast-paced game lovers. Even the hexagonal shape of the puck is cherry on the cake which actually adds more challenge to the game and feed your adrenaline rush. Moreover, Accessories include 2 LED pusher, 2 round pucks, 1 hexagonal spinner LED puck.
Factors to count
This Hathaway Midtown 6-Feet Air Hockey Table has appealing dynamics. From overall looks to the strength to the aesthetics it has the charm you cannot ignore. As everything on earth has its own pros and cons so does this Air Hockey table has. Let's go through them and understand this product better.
Overall Review
This amazing product has earned 5 star reviews on each website. It has gain highest review score of 9.8 which showcase how promising the product is.
Amazon.com being the prime seller of Hathaway Midtown 6-Feet Air Hockey Table has the best buyer reviews as well. People who have experienced it are in love with this product.
Not a single negative review has been found and people are appreciating it worldwide. According to them this product has changed the scenario of family and friends gathering. Kids are always ready to play this game with their parents and friends.
One can actually reclaim their youth by this exciting game. You just need to be fast and you can have all the fun.It's also an excellent choice for those who are looking for an air hockey table that stands out from the crowd in terms of aesthetics and game play.
Pros
Smooth playfield and powerful airflow provides fast paced game.
Heavy and sturdy legs make it more stable and durable.
Multi colored changing LED lights allow you to play at any time.
Bright lights and fast music add the spark to your game.
Affordable price is the icing on the cake.
Cons
Assemble time of the table is a bit longer.
Featurees at a Glance
Rich Cherry wood tone cabinet.
110V UL approved high powered blower motor.
Electronic LED scoring unity.
Built-in timer and multiple game setting options.
Product Specifications
Product Dimensions: 72 x 36 x 31 inches.
Shipping Weight: 97 pounds.
ASIN: B00CZ93CR.
MItem model number: BG1037
Frequently Asked Questions
Q: Can the sound be turned Off?
Q: Will the Item be suitable for commercial application?
Q: How many adults can carry the whole table?
Why Hathaway Midtown 6-Feet Air Hockey Table Review?
From shape to size, to specification, to features this air hockey table is the best among st all the other available in market with affordable price. It has been loved by everyone and buyer's 5 star reviews are proof of it.
Maybe you can find a cheaper air hockey table too but it will definitely not give you the aesthetic feeling of real game play which this hockey table is able to give. As we all know that at the end of the day the performance of the product that matters and we have to agree that none can beat the everlasting performance of this product.
I love the stylish design of the Hathaway Midtown 6-Feet Air Hockey Table first and foremost. It just looks like it belongs in a high-end arcade, and I can bring that straight into my home and not spend a fortune every time that I want to play a game with my friends.
The features are so attractive and irresistible that even if we look for option we will end up buying this master piece of game. Some things are worth the experience and I bet you Hathaway Midtown 6-Feet Air Hockey Table is one of them. All these positive reviews on so many websites cannot be wrong. It is surely worth the shot.
However, when the performance is considered, it delivers a much more that what its competitors can offer. In a heterogeneous market utility is what makes a product stand apart. As far as the bottom line of this Hathaway Midtown 6-Feet Air Hockey Table Review is concerned, this product is surely a 'Must Buy'.