2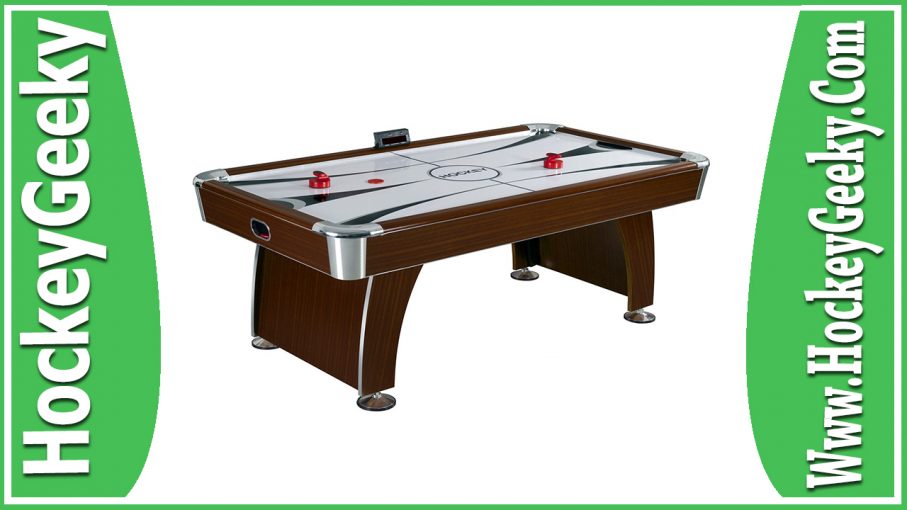 Carmelli Brentwood 7.5′ Premium Air Hockey Table Review
Carmelli Brentwood 7.5' Premium Air Hockey Table is a great playing table with a number of cool features that will have you enjoying an action-packed arcade at your home or with your family.
This classic model includes a powerful 110V/60mz blower motor which enables maximum air flow for a steady puck action.
The playing surface, whose length and width are 81 by 42 inches respectively, is constructed using crafted laminated MDF to offer a high-speed gameplay.
This Air Hockey table also has a unique feature that enables you to play in the dark; the LED Lumen-X technology which illuminates the 7.5' table with green, blue and red multi-color light effects.
These lights change their colors interactively when a player scores a goal during gameplay. This takes the competition to an exciting level; a fast-paced gameplay that involves colorful LED pushers and LED pucks which give a game changing experience that is definitely worth a try.
This Carmelli Brentwood table is supported by four huge legs which make it sturdy and stable for the best gameplay performance.
Features of the Carmelli Brentwood 7.5' Premium Air Hockey Table
The Carmelli Brentwood 7.5-inch Premium Table includes a number of great features which contribute to the highly applauded gameplay of this unit. It is powered by a 110V/60mz blower motor, includes a number of superb LED accessories which make the play exciting even in the dark.
The LED lights are paired with high-tempo and fast music for increased gameplay intensity. The features have been briefly discussed below to show their benefits to the arcade.
>>> Click Here to See More Photos Now on Amazon! <<<
110V/60mz Blower motor
The Carmelli Brentwood 7.5' Premium Air Hockey features a powerful motor of 110V/60mz blower that creates a consistent airflow for easy gliding of the puck from one point to another. This motor is also designed to offer a fast-paced gameplay.
It establishes a non-stop play on the air hockey table to make the arcade enjoyable and exciting.
LED Lumen-X technology
The LED Lumen-X technology of this unit contributes to its excellent gameplay. Along the table's edge are LED lights which emit blue, red and green lights that are synchronized to the high-tempo music which increases adrenaline levels of the players to raise the intensity of the gameplay.
Each time you or your opponent scores, the lights change color and this gives the scorer an adrenaline rush while the other player gets pressured to do better in the game.
This, in turn, raises the level of competition making the air hockey game more intense and exciting. Furthermore, this LED Lumen-X technology is ideal for playing in the dark. You should turn the room's lights off and try playing air hockey in the dark.
This will allow you to test your air hockey skills by making the LED lights more prominent whereby you will have to depend more on reflexes than eyesight.
Four big legs for optimum stability
The Carmelli Brentwood 7.5' Premium Air Hockey Table is made of four big legs as well a large cabinet both of which make it a bit chunky in appearance. This design, however, makes this table very stable and durable and thus an excellent performance on the arcade.
The heavyset design of this air hockey is perfect for your home's interior design and decor especially due to its manly appeal.
Smooth and even playing surface
The smooth playing surface of the Carmelli Brentwood is made using PVC-laminated MDF which offers a high-speed and non-stop arcade-style gameplay. This surface is supported by the four large legs that make it steady and stable for an excellent game.
Air hockey table accessories
This unit offers a more traditional air hockey gameplay with great accessories. The Carmelli Brentwood 7.5' table comes with 2 round pucks, which can be swapped with the hexagonal spinner LED puck in case you want to increase the game's excitement.
Dimensions
The length, width and height of this carmelli air hockey table/unit are 90, 50 and 32 inches respectively. It has a shipping weight of 270 pounds and thus it is not easily move able.
The following are some of the great advantages of using this air hockey model.
It has built in LED lights which make it effective for playing air hockey in the dark.
Its powerful motor promotes the airflow which allows easy movement of the puck.
It features large and sturdy legs which offer great stability and support for a splendid gameplay.
The high tempo music which is linked to the LED lights makes the game very exciting and intense.
An even and smooth play surface that influences fast-speed play.
The table lacks any serious limitations apart from the assembly which may take a few hours.
CARB certified playfield
High gloss
110V/60mz blower motors
Accurate
Quick easy assembly
Dual Protection Packaging
Overall dimensions: 90" L x 50" W 32" H
Shipping weight: 209 lbs;
Assembled weight: 165 lbs
Playfield dimensions: 81" L x 42" W x 1" Deep
Frequently Asked Questions
The following are some of the frequently asked questions about this product together with their answers to give you further understanding of its features and benefits.
Q: Is it possible to play using regular pucks and pushers which do not light up and without all the colored lights?
Q: Can you carry a single piece at a time for easy transportation to the assembly destination?
Q: Can you add a ping pong table on top?
Final Verdict
The Carmelli Brentwood 7.5' Premium Air Hockey Table orcarmelli air hockey is entirely a great product with quality features and great durability. The table includes the LED lighting and sound effects technology which makes the air hockey arcade very exciting.
It is also a great choice due to the powerful 110V/60mz blower motor and smooth playfield which offer a high speed and consistent gameplay.
These features also contribute to the overall sturdiness and airflow of the table which in turn give a superb play. Do not hesitate to order one of these units with quality and cool features and you will certainly enjoy your air hockey game.
You May Like These Resource: