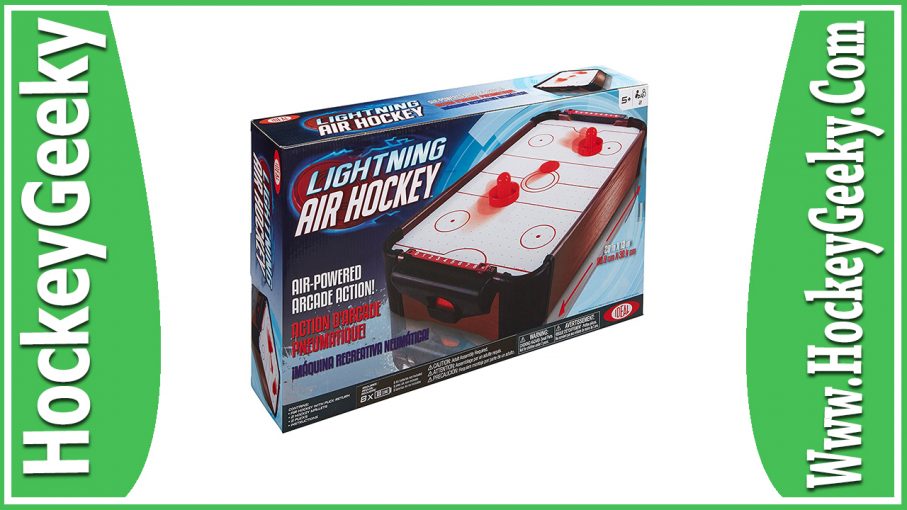 Ideal Lightning Air Hockey Review
Here is an ideal lightning air hockey review for special you. Now we come to the opposite end of the spectrum when it comes to size and portability. What if you want to have something a portable as a tablet?
If that's the case, then this Ideal Lightning air hockey model is a likely candidate for you. It's perfect for kids, and parents will love how affordable it is.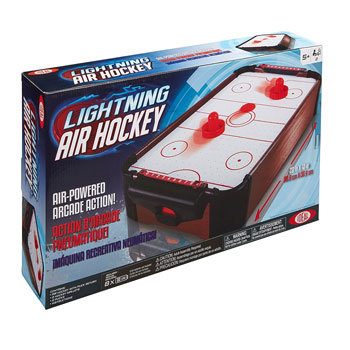 Tablet measurements
When we say it's like a tablet in size, we're being literal. It measures only 20 inches long and 12 inches wide. It doesn't even have legs and it is less than 4 inches thick.
So you can carry it around in your bag and just whip it out whenever you want. You can lay it in school or at the park, or at home over the coffee or kitchen table. The size is also perfect for very young kids.
Air blower
Some units this small aren't really air hockey tables. That's because they lack the "air" component that keeps the puck moving smoothly over the playing surface.
These "push" hockey games come with slippery surfaces, but friction is still an overriding factor. But not with the deal Lightning. Despite its small size, it's a proper air hockey game. It does come with an air blower.
Battery-powered
To power the air blower, you need to get 8 AA batteries. So this means you don't need to play it right near an electrical socket.
You can bring this along to the park or even to the beach. Your best bet is to use 2 sets of rechargeable batteries so you can use one set while the other set is recharging.
Affordable
This ideal lightning air hockey review gives more info: The price is the equivalent of about 3 coffees or 2 tickets to the cinema. Those goods are over within just a short while, but this game can last a very long time. It can foster a lifelong love for the game.
At this price point, it's not much of a risk if you're not sure that your kid will take to the game. But if you have a full-sized air hockey table already and your youngest kids can't play on it, then this is a very good consolation prize.
>>> Click Here To See Specifications, Customer Reviews & Rating <<<
Pros
• It's very portable.
• Small kids can play with this for hours.
• It's not expensive at all.
• There's very little assembly required.
• The sliding scorer keeps track of who's winning.
Cons
• The small size doesn't do much for adult players.
• It needs too many batteries.
FAQs
Q.How much does it weigh?
A.It only weighs 5.5 pounds. Kids can carry this around with ease.
Q.Does it has legs?
A.No. it's a tabletop unit. So kids can use it on any table with the right height for them, or even lay it on the floor.
Q. How old should players be?
A.It's supposed to be for kids as young as 5 years old, but many kids younger than that love this game and this model. As for adults, the main problem is the small size of the goalies. Grasping it is like holding a chess piece. You use your thumb, pointer finger, and middle finger to move it around.
>>> See More Questions and Answers <<<
Final Verdict of Ideal Lightning Air Hockey
So finally this ideal lightning air hockey review explain how do you know that your kid will like this? You don't, although it's a safe bet. And you're not risking much at all with this price tag.
Very young kids can play this while the parents can enjoy their bigger versions. Soon enough, the young kids grow older and bigger and they have enough experience to play well on the bigger tables.
[su_button url="https://www.amazon.com/Ideal-Lightning-Hockey-Tabletop-Game/dp/B00IBDWOGQ?tag=hockeygeeky03-20″ target="blank" background="#d8101d" size="6″ center="yes" radius="5″ icon="icon: hand-o-right" icon_color="#fff" text_shadow="0px 0px 0px " rel="nofollow" class="productPriceBtn"] Buy on Amazon, Now![/su_button]