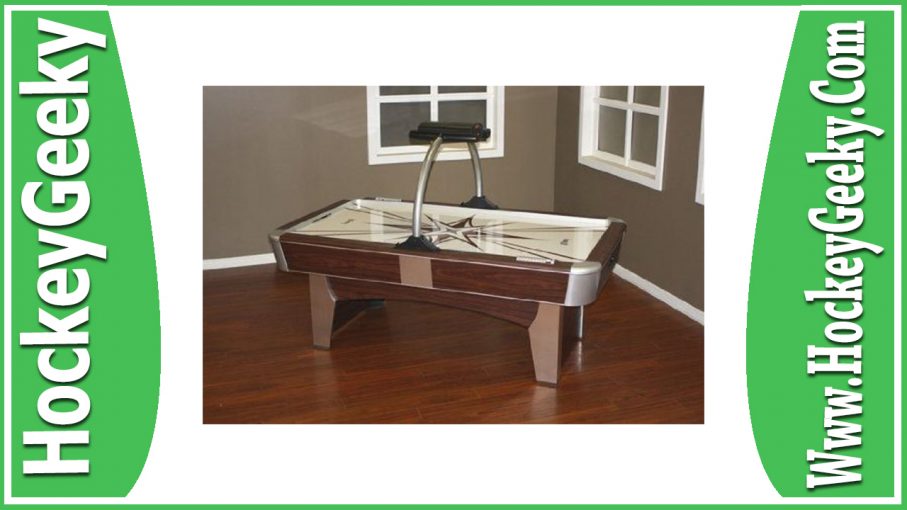 American Heritage Billiards Monarch Air-Hockey Table Review
Honest review for American Heritage Billiards Monarch Air-Hockey Table
Some people just really abhor cheap items. They look tacky, they have lots of imperfections, and often they don't last all that long.
Now if that's your attitude when it comes to air hockey tables, then this American Heritage Billiards Monarch Air-Hockey table is going to delight you.
Elegant style
Most air hockey tables come with either simplistic designs or extravagant graphics, with pictures of hockey players on the side to enjoin kids to play. But this  Monarch Air-Hockey Table looks amazingly elegant.
That's because the cabinet comes with a cherry finish that makes it resemble the classiest billiard tables, and it also features a silver trim. For excitement, the American heritage billiards monarch air-hockey table playing surface showcases a large screen-printed multi-pointed star that will attract every eye in the room.
Overhead arch
In addition, it also comes with a stylish metal arch right over the center line, and in the middle, you have an electronic scoreboard that resembles the overhead scoreboard on standard arenas. It comes with a timer too. The arch even emits sounds to really add to the game atmosphere.
Regulation size
This offers a regulation-sized playing surface that's 76 inches long and 40 inches wide. The whole thing measures 84 inches long and 48 inches wide, while it stands 32 inches high. Basically, it's as wide as some air hockey tables are big.
The pucks and the strikers are also large and regulation-sized, which is important. If the puck is too small, it will just fly off the table every time you hit it.
Powerful blower
The problem with a playing surface this big is that you need a strong blower that can ensure that every square inch of the surface is covered with the air that makes the puck glide.
But that's not a problem in this case. This axial AC fan is very powerful and it also comes with thermal protection.
>>> Click Here To See Specifications, Customer Reviews & Rating <<<
Pros
• It looks amazing.
• There's a manual scoring system for backup.
• The size is great for adults and older teens.
• It comes with a 1-year warranty.
• The play is fast and furious.
• It stays in place, like a billiards table.
Cons
• The size won't fit in small rooms.
• It's too big for smaller kids too.
• It's also very heavy at 205 pounds.
• You need 2 people to assemble it.
• It can get very expensive.
FAQs
Q.How many pucks and goalies do you get?
A.You get 4 of each, so you have lots of spare accessories. And they're all regulation-sized too, with the pucks measuring 3.25 inches in diameter.
Q.What if you get an air blower that's weak?
A.Then it means something's wrong with it. You can contact customer support and a replacement can be sent out at no extra cost to you.
Q.How much does it cost?
A.That depends on the seller you choose. But in general, it's a few pennies from reaching the 4-digit price mark.
>>> See More Questions and Answers <<<
Final Verdict
Adults want something that looks great in their game rooms, and this fits the bill exactly. It looks truly elegant, and its appearance makes it the centerpiece of any room you put it in. Just make sure you have ample space around it, as it's huge.
And it doesn't just look great, it plays fantastically as well. This huge playing surface allows for strategizing and quick gameplay, and it's great to watch as well.
This is for those teens and who already know they like to play with american heritage billiards monarch air-hockey table smoothly. Though a bit pricey, the appearance, high quality of gameplay, and durability makes this a worthy purchase that can last for many years to come.