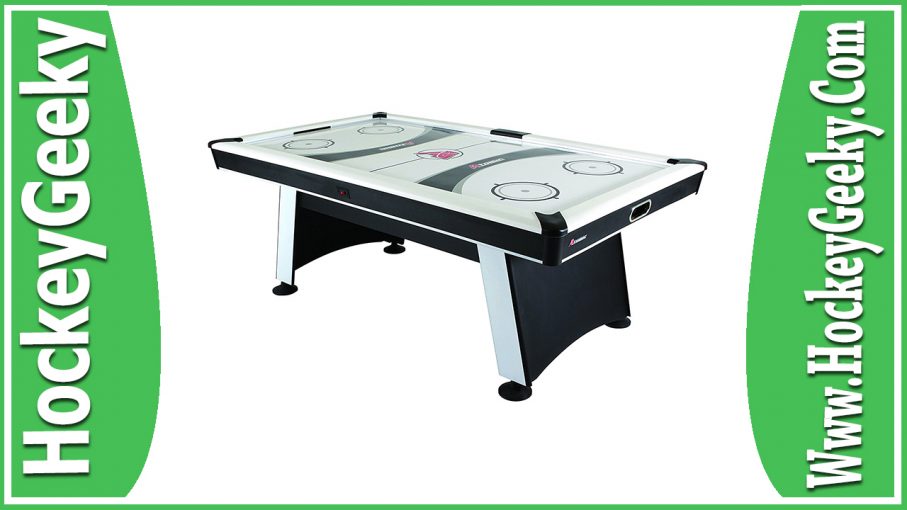 Atomic Blazer 7' Hockey Table Review
Atomic Blazer 7' Hockey is one gaming accessory you should look forward to if enjoy hockey. The table features top features and incredible performance which you can hardly get in any other random hockey table. The LED lumen-X technology just makes any gaming moment using Atomic Blazer 7' Hockey to be just so amazing.
For instance, you can still use the table even when it is dark and the assurance is that you will still have fun thanks to the laminating LED lights.Any purchase of this hockey table comes with 2 LED pushers, 1 hexagonal LED puck and 2 round pucks which can be used for any gaming moment.
Perhaps the best way you can get an accurate description of this hockey table is by having a detailed look at its features and level of performance.
In this Atomic Blazer 7' Hockey Table Review, we will discuss the kind of gaming experience you can expect with this table and also discuss features that make this hockey table to be incredibly unique.
Its playing surface comes at the right size - it is neither too large nor too small and that means a player can easily move around when making gaming decisions and actions. Here are some features you can experience with this hockey table.
Features of the Atomic Blazer 7' Hockey
The following are the features that you should know:
>>> Click Here to See More Photos Now on Amazon! <<<
Atomic Blazer 7' Hockey is meant for people who often enjoy fast-paced games. Its sleek, high-speed MDF surface is PVC-laminated and that provides a smooth and even playing surface.
The 120V motor helps to create reasonably steady and powerful currents that can allow for easily gliding from one point of the playing surface to the other. This factor ensures that non-stop playing can be achieved when using this hockey table. The 120V motor also generates a consistently smooth airflow that can give reasonably enjoy puck action.
The other incredibly beautiful feature in the Atomic Blazer 7' Hockey that gives wonderful game time is the LED lumen-X technology. LED lights are present along the edges of the table and can emit red, green and blue light effects.
If the light effects are paired with a high-tempo music, then it can be possible to raise the adrenaline level of any gaming moment to be even more intense.
The LED lights can also change the color effects when you or the opponent scores, and that effect can create a beautiful feeling of pressuring a player to deliver more rewarding performance. To utilize the LED lumen-X technology, you can turn off the lights and play hockey in a dark environment. In the instance, you turn off the lights, you will need to rely on the LED puck so that it can be tracked when game is on.
The puck comes in a hexagonal shape which is somewhat hard to it and that somehow adds an interesting challenge to the game.One of the first impressions you can easily notice in Atomic Blazer 7' Hockey is that is somehow heavy. At 155 pounds, this Hockey requires about two grownups to be comfortably moved around.
The heavy weight can be a disadvantage, however, there is a positive side of it. The 155 pounds weight make Atomic Blazer incredibly stable and sturdy and that means it can withstand a lot of wear and tear that it may be subjected to.
Atomic Blazer 7' Hockey Table may seeming look a bit chunky because of its big legs and huge cabinet. However, it is that design that contributes to the table's overall durability and stability and that is the single most important factor that you should consider when discussing hockey tables.
This aesthetics entirely rely on its LED lights and you can realize that feature if you are playing on the table when it is dark. The LED lights can make you feel like you are playing in an ultra-modern space-themed arcade instead of the normal home environment.
It is simple to handle the table's 86 x 50 x 6.6 .2" dimension since many homes have spaces which can comfortably fit such table dimensions.
Even if your friends are fond of leaning too much on the table surface, that shouldn't worry you too much since Atomic Blazer 7' can't crash under such pressure. It's large and steady legs give it stability and ensure that you hardly can you experience unnecessary wobbling or distractions when playing.
The flashing lights and the fast-paced music system included in the Atomic Blazer 7' Hockey can make any gaming moment enjoyable.
Atomic Blazer 7' Hockey Table - Video
The smooth playing field and the powerful motor promotes fast-paced and interesting play.
Its LED puck provide challenging and unpredictable rebounds that can give immense fun anytime the game play is on.
It has an amazing color combination. The distinctively black and silver color finish gives the table a beautiful style which can appeal to players.
Hardly can you find a feature that can put your interest off from the Atomic Blazer 7' Hockey table if not its somewhat heavy weight of 155 pounds. For some people, assembling the table's components can take a few hours. However, the "cons" aren't any deal of a problem given the functional and aesthetic appeal you can enjoy with this hockey table. You can expect amazing hockey fun with this table since that is what is designed for.
4.5" MDF aprons
5" Wide Leg levelers
Flip-up electronic scoring
6" Wide Pedestal-style legs
Product Dimensions: 86 x 50 x 6.6 inches
Weight: 25 pounds
Shipping Weight: 155 pounds
Model number: G03510W
Frequently Asked Questions
Q: Does it come with the legs off?
Final Verdict
Atomic Blazer 7' Hockey is meant for persons who would want to own a table that can withstand being constantly used and last for a long time. It is also an excellent pick for hockey lovers who would love a table that boasts of functionality and aesthetic appeal at the same time. Many consumers who have tried this Hockey table have responded to it with incredibly positive and amazing product reviews.
Hardly can you come across any negative review about Atomic Blazer 7' Hockey table and that means it is just spot on regarding the functionality and fun it is intended to deliver. If you need a hockey table that can deliver fun and convenience, you can try Atomic Blazer and not get worried about any possible fault.