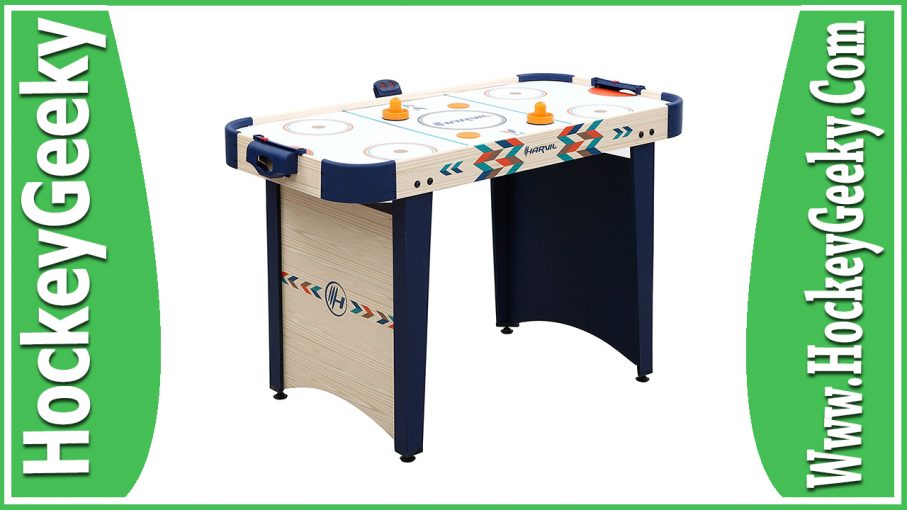 Harvil 4 Foot Air Hockey Table Review
Here's another good-looking air hockey table that simply calls to people around to play on it. But for parents with tight budgets, perhaps the most attractive of all is the price tag, because you can find sellers of these who offer it with just 2 digits in the price. For the quality of this Harvil, it's a tremendous bargain.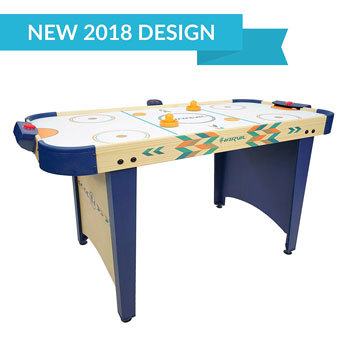 Low cost
When you look for best air hockey tables, you'll find that just about each one of them comes with a 3-digit price tag. Some even approach the 4-digit mark!
For many families, that's a bit too much. That's especially true if you're buying one for your kids which the adults can play on too.
Nice midrange size
What makes the cost low is that the dimensions are smaller than the standard sizes. The overall dimensions are 54 by 26 inches, with 32 inches for the height.
And the playing surface is just 47 inches long. So it can fit smaller rooms, but at the same time the parents can play with the young kids without feeling too cramped.
Easy assembly
It includes an air blower and an electronic scoring system that operates on a pair of AAA batteries. The legs are L-shaped with aprons between the legs.
All in all, it shouldn't take you more than 30 minutes to put together. Some even need only15 minutes. You'll be relieved to know that it's easy to maintain an even playing field because of the adjustable leg levelers.
It's very sturdy too
It's designed for even rowdy kids, and it can take adults playing very well. The materials used are very sturdy, and the legs are thick and stable. It's great for families because it can last even with the bigger kids and adults playing.
Good quality
It's made of MDF materials that are CARB-certified, so it's safe for your floors. The 100V motor is sufficient to blow air over the entire playing surface, which ensures that the puck doesn't stop sliding due to too much friction. The manual scoring system even offers a good backup for the electronic scoring system.
>>> Click Here To See Specifications, Customer Reviews & Rating <<<
Pros
• It's very easy to assemble.
• The manual scoring system makes sure the score is tracked properly.
• The gameplay flows very smoothly.
• The size is just right for tight spaces and good gameplay.
• The price is great for tight budgets.
Cons
• The electronic scoring system needs batteries.
• You can't really rely on the electronic scoring system.
• You may bump the goals and they may fall off.
FAQs
Q.How big are the strikers?
A.You get 2 of these and each one measures 3 inches across.
Q.How big is the puck?
A.It measures 2.5 inches in diameter. You get 2 of these too.
Q.How do you keep the air blower working properly?
A.You just need to make sure that the holes for the air are unobstructed. So don't put things on top. You may want to cover it with a cloth when you're not playing with it.
>>> See More Questions and Answers <<<
Final Verdict of Harvil 4 Foot Air Hockey Table
This is a great air hockey table, because all the members of the family can play it. The kids can spend many hours playing against each other, and they can take turns. Then they can play against the adults as well.
It's very well made, and the gameplay flows very smoothly. Despite the low price, its quality is quite great and it can last for a very long while. It's a solid table that offers fun for everyone, with no significant problems to deal with.
[su_button url="https://www.amazon.com/Harvil-Foot-Air-Hockey-Table/dp/B003ZV6GOK?tag=hockeygeeky03-20″ target="blank" background="#d8101d" size="6″ center="yes" radius="5″ icon="icon: hand-o-right" icon_color="#fff" text_shadow="0px 0px 0px " rel="nofollow" class="productPriceBtn"] Buy on Amazon, Now![/su_button]