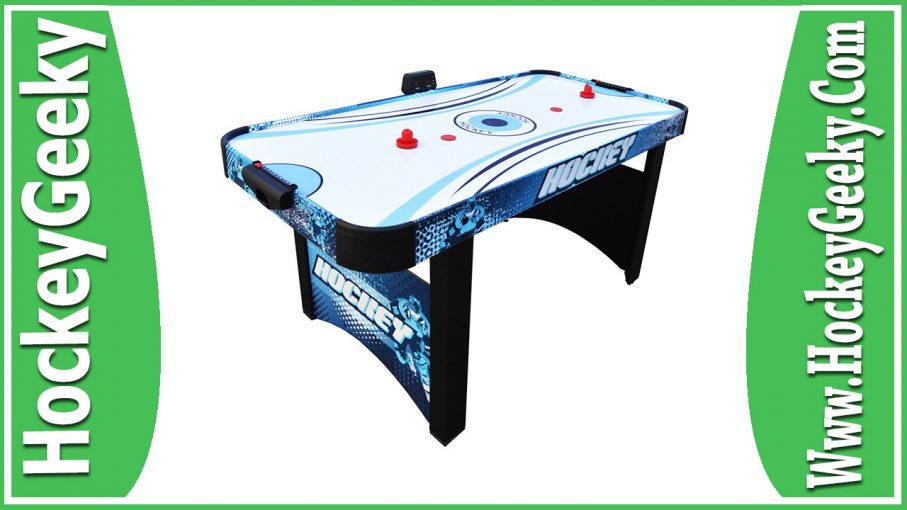 Hathaway Enforcer Air Hockey Table Review
Sometimes a game table will just sit there, and kids of all ages will feel an irresistible force pulling them to play. Such is the effect of the Hathaway Enforcer Air Hockey Table.
Put it in a room—any room—and it immediately becomes the centerpiece. It's just that eye-catching, and it plays as good as it looks.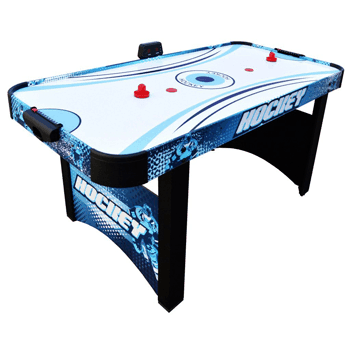 It's very colorful
The playing surface comes with flowing colored lines that seem to suggest smooth play and furious action. The sides and ends of the table come with predominantly blue graphics and "HOCKEY" captions.
Even the aprons in between the legs at both ends of the table showcase an exciting graphic that makes you want to play. The entire looks is designed to be eye-candy for competitive kids looking for fun games.
 It offers a large playing surface
The Hathaway Enforcer Air Hockey Table playing surface measures 65 inches long and 31 inches wide. That's big enough for older teens and even adults won't feel that it's too small.
It's also big enough for sizable pucks and goalies. But the entire table is just 66 inches long, so it doesn't really take up much space.
It's very sturdy
MDF materials have been used to make this, and the table can take a lot of hours of furious gameplay. Along the edges, the MDF is half an inch high. The MDF is also CARB-certified so it's safe for consumers.
The action is very quick and smooth
Yes, The Hathaway enforcer air hockey table playing surface is very slick and glossy, but that's not why the puck flows so smoothly over the surface. The reason for the smooth play is due to the powerful electric blower that can "float" even the heavy puck used for the game.
You can't replace it with lighter pucks, however, because those will just fly too high and fly off the table.
Nice accessories
It's easy to keep score due to the manual ABS slide scoring system. You don't have to rely on electronic systems, though you also have that too with this table.
The goal boxes are also equipped with an automatic puck return system so the action continues without too much interruption.
>>> Click Here To See Specifications, Customer Reviews & Rating <<<
Pros
• Kids will love its looks.
• The game action is very exciting.
• The playing surface is large.
• This can last for a very long while.
• The price is nice and not expensive.
Cons
• It may take you about 1.5 hours to complete the assembly.
• It weighs 44 pounds, which may not be heavy enough when kids try to lean on it.
FAQs
Q. How easy can you store this? You're not really supposed to store this away.
A. You just let it be in the room. But you can remove the legs easily enough for easier storage.
Q. Is it hard to keep the playing surface even?
A. No. That's because you have independent leg levelers that ensure you can keep the table level anywhere you put it.
Q. How old do players have to be?
A. It's good for kids and adults alike. In fact, even kids as young as 6 years old can play on this.
>>> See More Questions and Answers <<<
Final Verdict
Air hockey is one of those games that many adults know how to play. At the same time, kids take to it easily because the rules are simple and it's so exciting.
It's why it's the perfect game for many families. Kids can play among themselves, while they can play with the adults too for some intergenerational bonding.
You just need an air hockey table that's good for both kids and adults. And that's a perfect description for the Hathaway Enforcer Air Hockey Table.
It looks exciting to play, and it is exciting to play. And when the kids are asleep, you can bet that the adults will play with this too.
[su_button url="https://www.amazon.com/Hathaway-Enforcer-Air-Hockey-Table/dp/B014WEDN76?tag=hockeygeeky03-20″ target="blank" background="#d8101d" size="6″ center="yes" radius="5″ icon="icon: hand-o-right" icon_color="#fff" text_shadow="0px 0px 0px " rel="nofollow" class="productPriceBtn"] Buy on Amazon, Now![/su_button]