2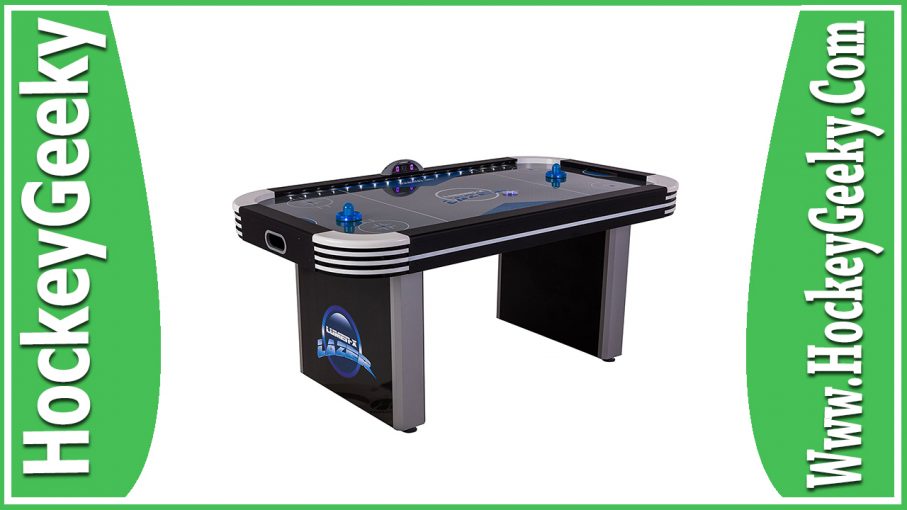 Triumph Lumen-X Lazer 6′ Air Hockey Table Review
When it comes to buying an air hockey table for an arcade, club, bar or even your cozy game room at home, you need to think about a few things. What is the best table for you? How do you spot a quality table? There are so many models available, it's not easy making a choice.
This Triumph Lumen-X Lazer 6' Air Hockey Table Review takes a close look at one of the most popular air hockey tables that you can buy off Amazon or any other store. We'll take a look at the features, what they mean for the players who use it, the pros and cons, and what users have to say about it.
Features of the New - Triumph Lumen-X Lazer 6' Air Hockey Table
The following are the features that you should know:
Dual Motor
Of course, a powerful blower motor is a given in an arcade-style air hockey table. The Triumph Lumen-X Lazer table has a motor that produces a consistent flow of air to keep the puck moving. The smooth poly coated surface helps.
A powerful motor means that you have to apply less pressure for each hit. Air hockey is more enjoyable when you don't have to exert yourself at the table like you're at a wrestling match. Plus, the gameplay is faster and more exciting.
The dual motor can be plugged into any standard dual AC household outlet.
Electronic lights for play in the dark
The table comes with electronic lights along the edges. These lights are an excellent addition since they make for exciting play in the dark. The table uses something called LED Lumen X-technology.
This essentially means the red, blue and green LED lights flash in time to the high-tempo music.These lights also change color when a player scores, so there's no need to keep score manually.
Of course, the fast music and the flashing lights makes the game more exciting. They help to keep the adrenaline high as you play!
Light up pucks and pushers
The table comes with two regulars 3.25-inch pucks and two LED pushers that light up in the dark. For more excitement, the manufacturers have thrown in a hexagonal spinner LED puck.
This puck is harder to hit because of its shape. It's a great addition to the game for when you want a little more challenge. Playing in the dark with the LED pushers and puck is a great way to test your air hockey skills and rely less on your sight and more on your reflexes.
Sturdy, stable build great for heavy use
The problem with many air hockey tables is that they are made of flimsy plastic and particle board with spindly legs. Jumpy kids could send such a table crashing in no time.
The Triumph Lumen-X Lazer table is also made of plastic and fiberboard. But the MDF board (medium density board) play bed is an inch thick and supported by several panels and braces.
The legs are also large and thick, adding to the table's stability. Even though the playing surface is extra-large so that kids and adults can play on it, it can withstand any amount of wear and tear in high traffic areas like bars and pubs.
Full-size table for everyone
The extra-large table top measures ninety inches, which is nearly the regulation eight feet size that is used in arcades. The table is also about forty-nine inches wide. It stands at 31.2 inches or about 2.6 feet. Clearly, this is a good height for both kids and adults to play.
The sturdy legs that support the table are also well-designed. They are tapered. Unlike in other tables where the legs get in your way when you lean over the table to take a shot, in the Triumph Lumen-X Lazer the design is ergonomic.
Aesthetically designed to look like real hockey
The PVC surface of the Triumph Lumen-X Lazer air hockey table looks like a real hockey game. The surface has colored lines that mimic an actual hockey surface. Many people find the chunky look pleasing since it has a manly appearance.
The aluminum rails along the insides of the table are painted in black acrylic to seamlessly blend with the rest of the table. The table is also quite attractive when the lights are out and the LED lights on the table flash brighter. This makes the table a good addition to a bar, arcade or lounge.
Pros
Powerful dual blower motors make game fast-paced.
High tempo music, sound effects and flashing lights adds thrill.
Smooth PVC surface for fast play.
Full aluminum rails reduce puck bounce.
Sturdy and durable design, extra-large play area.
Touch-screen controls on the inside of the rails for quick control over lights, sound.
Comes with regular round pucks plus special LED puck for a little more challenge.
Cons
The weight - the table weighs 75 pounds, which makes it a little painstaking to move and assemble. But the weight also makes it incredibly stable and suitable as an arcade-style air hockey table.
Featues at a Glance
Elevate gaming experience with accessories.
Two ultra-bright strikers and light-up puck.
Enjoy fast and furious game play as dual motor blowers provide continuous air flow
Product Specifications
Product Dimensions: 72 x 40 x 31 inches.
Weight: 75 pounds
Shipping Weight: 99 pounds.
ASIN: B01MREOEQ4I.
tem model number: Lumen-X Lazer
Frequently Asked Questions
Q: Can the table be moved piece by piece?
Q: Can it be used as a pool table?
Triumph Lumen-X Lazer 6′ Air Hockey Table - Video
Final Verdict
This Triumph Air Hockey or Triumph Lumen-X Lazer 6' Air Hockey Table Review will have made clear that it's hard to fault the model. The chunky, manly design is great since it looks like it just came out of an arcade.
The smooth surface with its colored lines mimic a real hockey floor. The LED lights and the music keep the tempo up.
Overall, the Triumph Lumen-X Lazer air hockey table is everything you want in a hockey table. If you're looking for a super-sturdy air hockey table - for your home, bar, arcade - we highly recommend the Triumph Lumen-X Lazer.