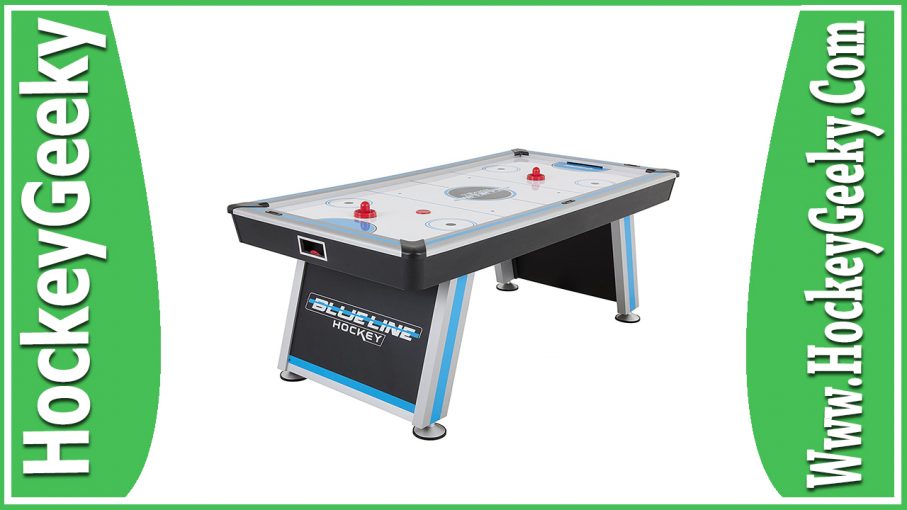 Triumph Blue-Line 7 Air Hockey Table Review in 2022
It is an air powered table with overhang rails which helps to reduces puck bounce. Created in 1969 and a financial hit by the early 1970s, air hockey continued popularity has given rise to some US. State and International tournaments. Air Hockey isn't just a tournament game, but also a family favorite. Ideal for teenagers to hang out with their friends, an added game to a BBQ, or even just a way to bring together the family on a game night.
Air Hockey is a simple game played on a low-friction table with both players holding one striker and using one puck. Most tables come with a built-in motor to produce a cushion of air for the puck to slide easily. With air hockey being a favorite, having your table to put in the basement or the garage is a good way to hang out with friends as well as family. At times, finding the top most air hockey table can be a challenge, but one good pick is Triumph Blue-Line 7' Air Hockey Table.
Triumph Blue-Line 7 Air Hockey Table
The following are the features that you should know:
Having a powerful motor to make sure you get the appropriate amount of air to play a good game is crucial, that is why Triumph Blue-Line type of Table comes with built in 110V motor to produce excellent air flow for the best air cushion for smooth playing. With 110V, it has more voltage than many of the other models.
With a PVC and laminated play bed for slick sliding coating on the top of this table, this table provides a very slick surface. Combined the slippery surface with the air cushion and the puck glides nicely across the surface and doesn't cause any friction problems while playing.
Also, it offers 84" long and 42" wide table top giving you a large table surface to play on the 82" long doesn't account for the full length of the table, which add an extra 3" all the way around. Pedestal style legs for strength underneath play bed
Want to shine a little light on what you are doing? With built-in LED lights, you can light up the surface of this table to be able to every move you make in the glow of red, green and blue combinations.
It also adds a little extra punch with changing up the lights every time someone scores. These lights are not just limited to the table itself but are also found on the puck and pushers as well.
If having LED light isn't enough, maybe adding a little music to your game will create a better experience. The Triumph Air Hockey table plays high-tempo music while you play as well as having an electronic scoreboard located at the control panel.
This high-tempo music will be enjoyed by many teenagers over many games. Combining the LED lights on the table, pushers, and puck with the music can provide a very exciting experience if you choose that playing dark is the way to go.
If you don't want the music to interfere of chatting with your friends, you can easily turn it off at the control panel. After all the added features, you also need to take a look at the structure of any air hockey table.
Specifically, at its strong legs to give it the ability to last for years through all kinds of playing you can throw at it. It will continue to stand still and steady even when the players can't help but get a little excited.
Pros
The Triumph Air Hockey type of Table comes with powerful motor for air cushion.
With built-in LED light and music, it takes the game to a new level.
Lights are not just limited to the table but are built into the pushers and puck as well.
Sturdy built table can take on the most vigorous playing.
Cons
While the legs detach, the table itself is extremely heavy.
Features at a Glance
Air hockey table with powerful 110V air-powered motor.
Easily keep track of the action.
Built-in inlay LED scoring and time clock.
Product Specifications
Measuring 84" L x 42" W x 32" H
Shipping Weight: 123 pounds
ASIN: B016D3ZVF6
Item model number: 45-6808
Frequently Asked Questions
Q: Can you turn the sound off?
Q: Does it require batteries?
Q: What size are the pucks?
Q: Can you add a ping pong table to the top of air hockey table?
Q: Does this table come with strong leg levelers?
Final Verdict
If you're looking for your first or your next air hockey table, Triumph Blue-Line 7' Air Hokey Tables are an excellent choice. The accessories which are included in this table are two LED pushers, two round pucks, and a single Hexagonal shaped spinner LED puck.
The two round picks are intended for regular playing, while the one hexagonal spinner is designed for us when playing with all the LED lights. The only recommendation with this table is to make sure that you have sufficient people or equipment to be able to move the table top to the place you want.
One customer also recommends to make sure that you remember to measure the doorways and width of any possible stairs before purchases this item, so you know where it is going to go and how you are going to be able to get it there.
Outside of being a heavy table top and requiring a few batteries, customers gave this table a full five stars without any complaints about the table. All would recommend this table to those who are looking for one.